22 Mar
I love Vajrayogini and I remember that I was so moved and inspired by her on the pilgrimage led by H.E. Tsem Tulku Rinpoche in 2008. The pilgrimage consisted of many sacred places including 4 ancient temples of Vajrayogini in the Kathmandu valley. The numerous teachings that Rinpoche gave during the pilgrimage later became the basis of my book, Vajrayogini and Other Sacred Power Places in Nepal.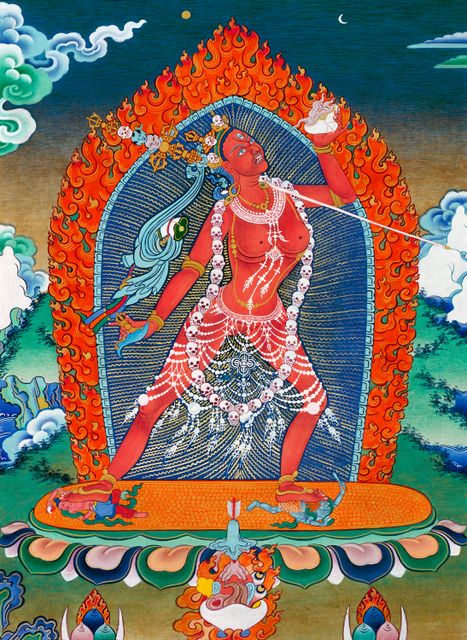 You see, Vajrayogini is very much a Buddha in a female form. Buddhas, being completely enlightened can manifest in whatever way that they (with their perfect wisdom) deem suitable in order to be of utmost benefit to sentient beings. Hence, Vajrayogini is female with a somewhat feminist flair for anti-male establishment. However, the way Vajrayogini does it goes beyond gender when she tramples upon our ego and strikes at the root core of our fundamental dualistic view of reality. That means everything about her goes against the norm and this is really a teaching that norms, labels and rules that we hold on so dearly with our lives are restrictive and blocks of our very true potential…. I know! She is one pretty neat Buddha-chick! 
Vajrayogini is red in colour which reveals her somewhat show-stopping need to devour all our addictive and destructive passions in one quick sensual kiss. The imagery here is decidedly Tantric in nature because Vajrayogini's meditations is Buddhist Tantra of this highest form. (I will talk more about Tantra in a later post) Anyway, this may sound all mumbo-jumbo but it really means she is a rocket-speed angel to blast you all the way to enlightenment in this very lifetime… if you are a willing devotee…
This Vajrayogini statue that I posted earlier (I posted again below) came from a temple in Kathmandu that is easily accessible from Thamel or Bouddha. The temple is known as Bijashwari Bajrajogini Mandir and it is basically family-owned like many of the other Vajrayogini temples in Nepal. There are three other unique statues within the inner shrine of the temple that represent different manifestations of Vajrayogini. A picture of these statues is available within the Vajrayogini book….