8 Jun
I know this is way overdue but I am going to post up some pictures of KMP (Kechara Media and Publications). I have never worked in such a beautiful office before. The showroom of Volvo (one of my previous jobs) was not bad too but I was a lousy salesman. Anyway, never in my wildest dreams would I ever think that I would be working in a publications' company.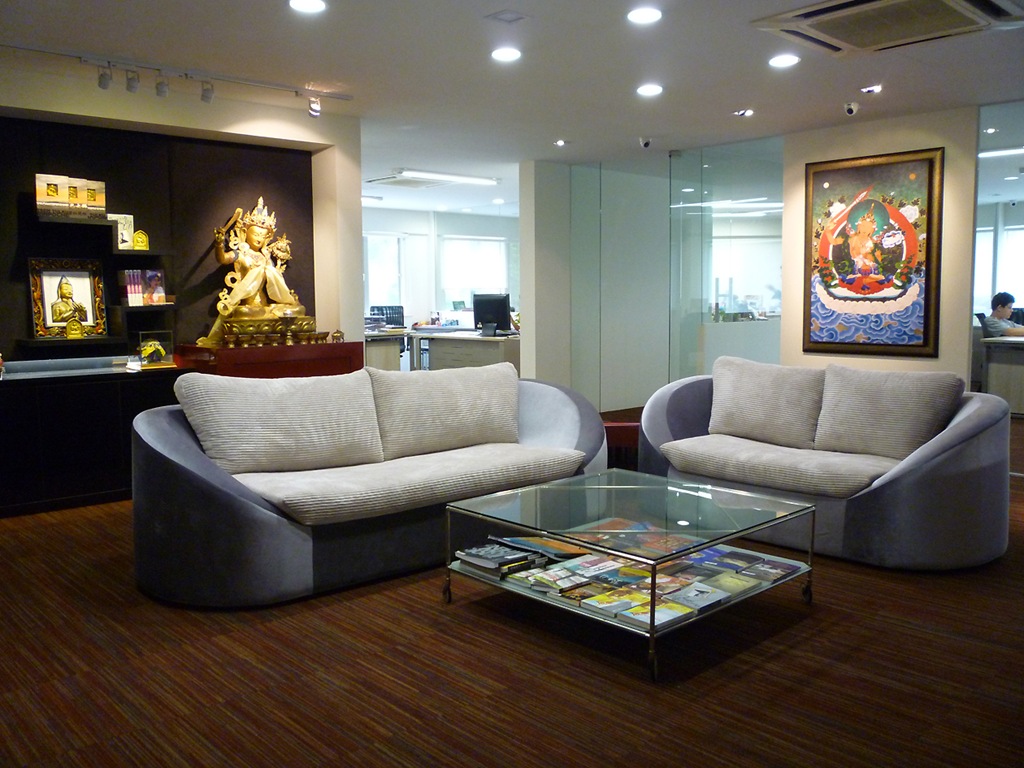 Check out the cool reception area of KMP. Lovely 3-feet statue of the Buddha of wisdom, Manjushri was donated by my dad, Uncle Lai. So, he sits divinely in KMP, inspiring our work and blessing all who come into the office.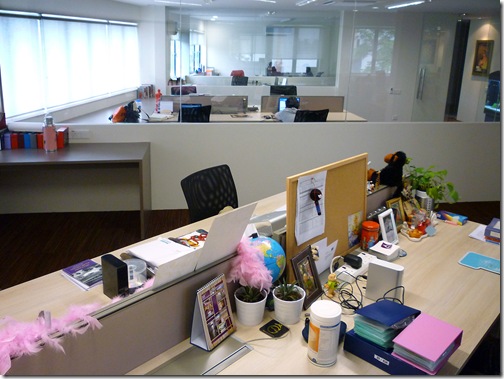 This is the English editorial room with all its workstations. No hard guesses necessary to know that the pink feather boa belongs to Jamie 'Paris' Khoo. Mine is the one with the money plant (I wished real Ringgit notes grew on it), Manjushri and Herbalife. Just to let you know, I quit Herbalife. Why? I lost slightly over 1 kg after starving myself half to death for a whole month! I gave up on a losing weight, ate myself over a few kgs and saw myself in the mirror one morning and decided to take up midnight jogging again (will blog about it soon).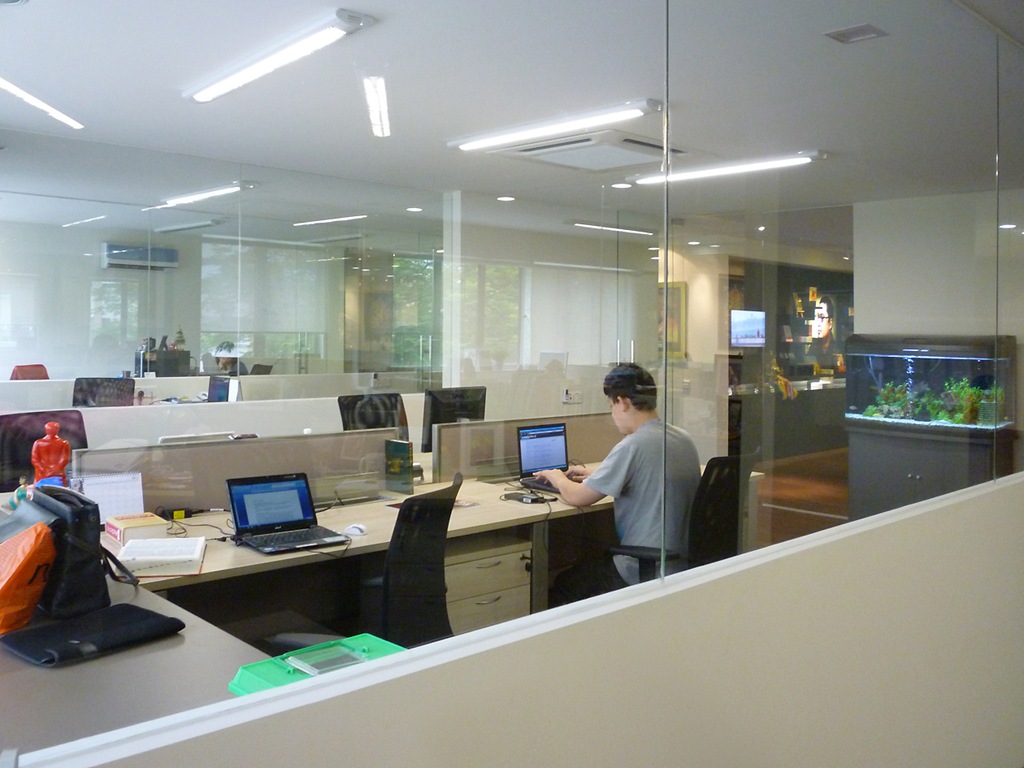 The Chinese editorial room is next to us and you will see a red Mao figurine to proof that! The fish tank sits in with them and also a gorgeous Vajrayogini altar (makes me slightly green with envy), not seen in this photo.  Both of which is taken cared by Dr Lanse. On the side, Paul (my housemate and head of 3 Kechara departments) said the half glass partition reminds him of his factory office, he used to work in. It was the only negative comment we heard so far.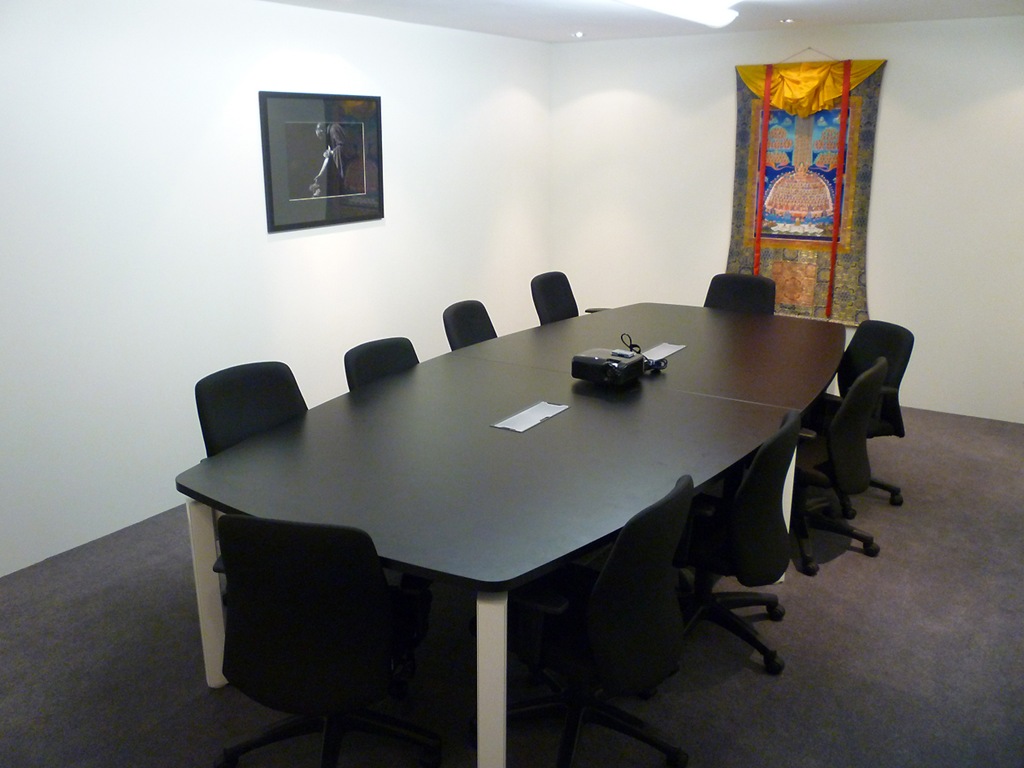 This is where the crazy motley KMP crew gather every Monday for their weekly meetings and various meetings as well. The renovations (all thanks to Judy Dudy (I mean Judy Lam, our office admin head.) and Li Kim's (our great CEO, boss, friend and celebrity-to-be) great taste and decisiveness.
Often, we have to remind ourselves that the KMP's office used to be Kechara House's main prayer hall. We are indeed fortunate for its vast space and extra good vibes from all the pujas, prayers, retreats and Dharma talks held there. There's no better place to work in!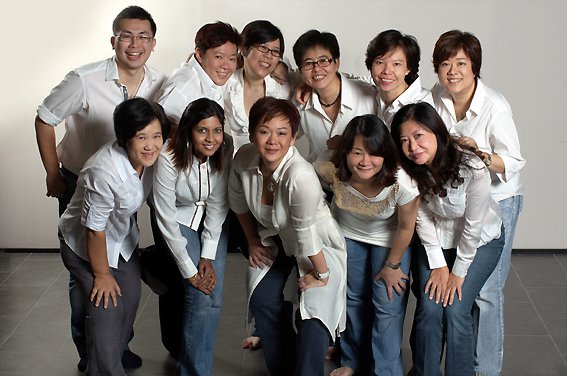 The mad crew – I am the only thorn among the roses.