2 Mar
Well, I wanted to blog about something and I had no clue whatsoever as usual. So, I  just started to browse through some old pictures hoping to glean some inspiration and I came across a series of photos that I had taken with my old phone and I thought, hey, these would make an interesting post. You know, snapshots of my life here and there kinda thing. Well, I was the photographer and that's why you don't see me in it. These are pictures that were taken a a few years back and I was using a Blackberry back then so the pictures are not the best quality but its all I have now. Check it out!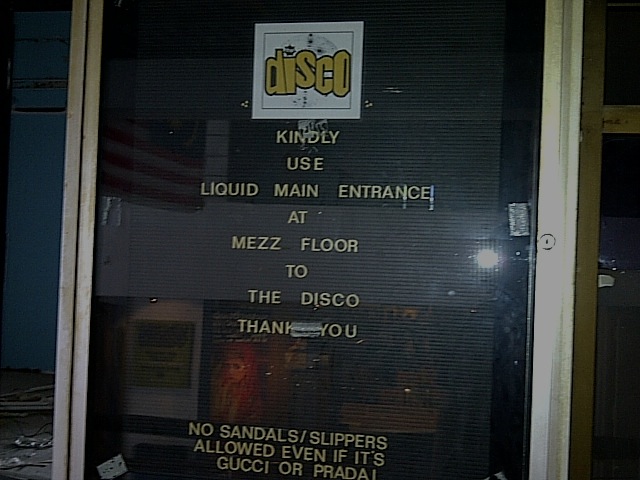 This little sign was part of a large defunct disco club that I used to frequent way before Kechara. They closed down many years back and this sign is all that's left of it and I managed to capture this. It's sort of the only living memory left of my disco raving days of my youth. You know, I used to feel so empty and unfulfilled if I didn't go every weekend night. The thumping beats, the bright dazzling disco lights and of course the beautiful creatures of the night. But now, this is all that's left… Check the last line at the bottom, "No sandals/slippers allowed even if it's Gucci or Prada!!!" Haha!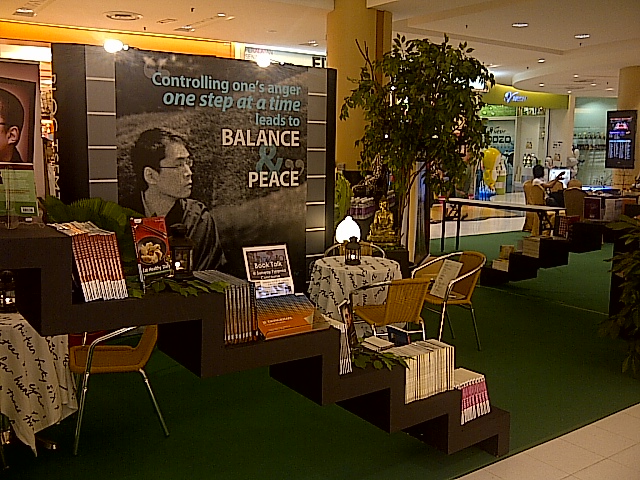 Over the years working in Kechara Media and Publications, I did have to handle a lot of roadshows and hauling books and creating book displays were part of my repertoire although I was not the most artistically-inclined. This was one display that I did for a Kechara Wesak Roadshow at Sunway Pyramid 3-4 years ago. They had a garden theme and I somehow managed to whip this out and it turned out not too bad. I am glad I did take this picture because this is the only picture left of what was arranged at that time. I arranged everything you see here except the Rinpoche backdrop, which was done by someone else and it kinda complemented the whole setup.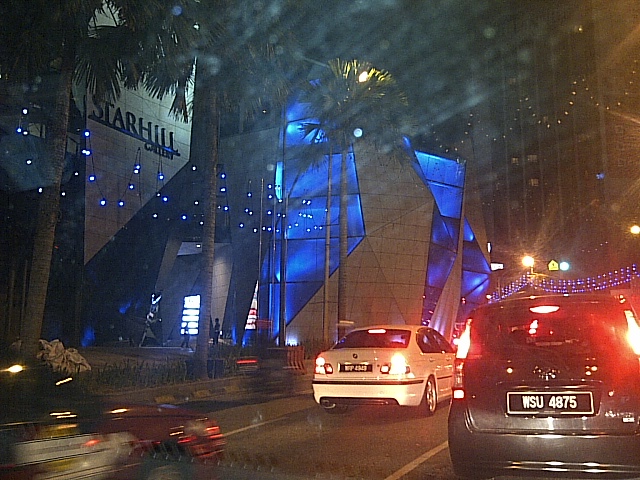 I have no idea why I took this but I did and then, it was not surprising because I would sometimes snap random street pictures for fun. When I examined it closer, it is actually of the strange looking building in the background, that was part of StarHill, Bukit Bintang. It's actually part of a high-end mall that looked rather funky and a new addition to the drab KL architecture. Real cool blue ambient light streams out from some of the facets of the polygonal structure. Funky town!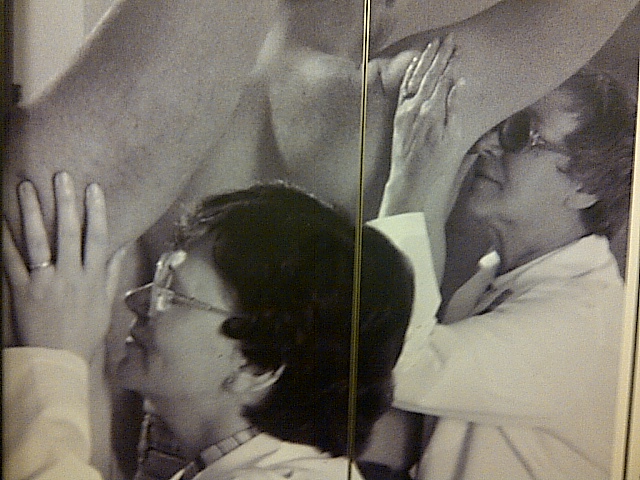 WTF! – I know. I saw this advert in the lift of Bangsar Village and I was shocked and I couldn't stop giggling. I had to take the picture. In case you can't make out what these women are smelling,  they are men's armpits. Yup, they are smelling men's armpits. Its actually an advert for one of those luxury perfumer's that they had in Bangsar Village.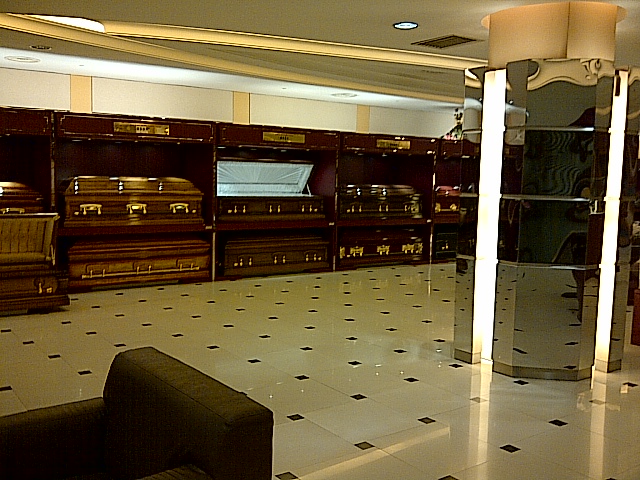 This is actually a high-end boutique and they don't carry just any ordinary luxury item. The wooden panels you see on the walls are actually samples of coffins. That's right! Its a high-end coffin boutique. You get personalized service while you decide how you want you loved one to be sent off into the next world. Not seen on the other wall is a wall full of dresses and suits, special clothes you can purchase to dress the deceased so they look their best when they meet the Lord of the afterlife.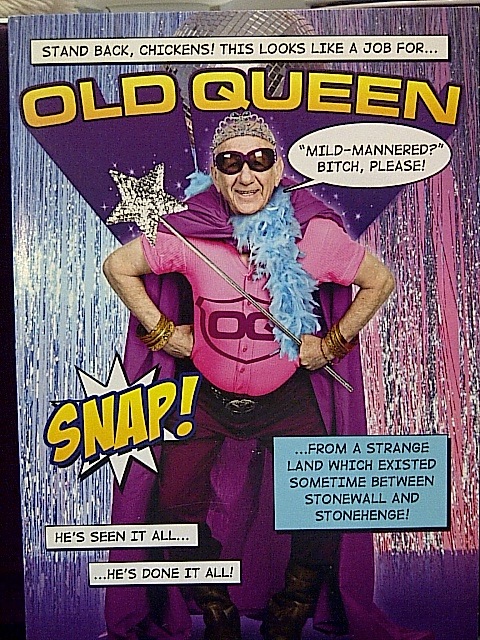 This actually a greeting card that I found in the flea market that I used to organize. It's so cute and funny that I had to take a picture of it. Everybody who saw it would laugh. It's just too endearing and funny. I guess the caption and words are quite self-explanatory.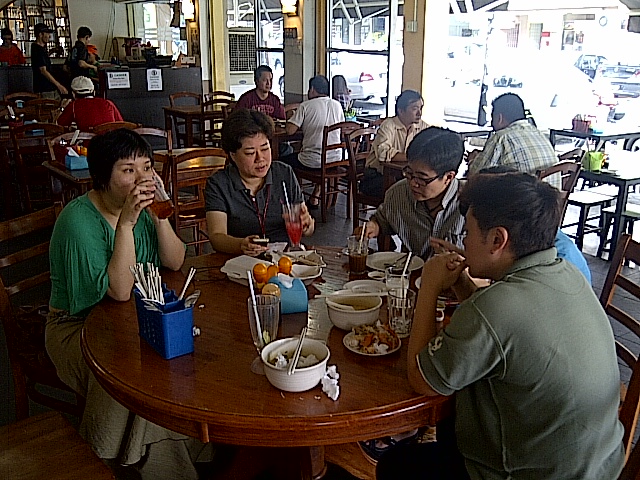 These are my wonderful colleagues of Kechara Media and Publications having lunch and chilling out. (From left to right) There's Jamie Khoo – the pink writer, Sharon Saw – the cool motherly writer, Lance – bespectacled, Pastor and (wo)man of few words, Abby – the baby translator (she's only 21 or 22 years old!) and Fang – the talented designer who has moved on to 'somewhat' greener pastures. Love you guys!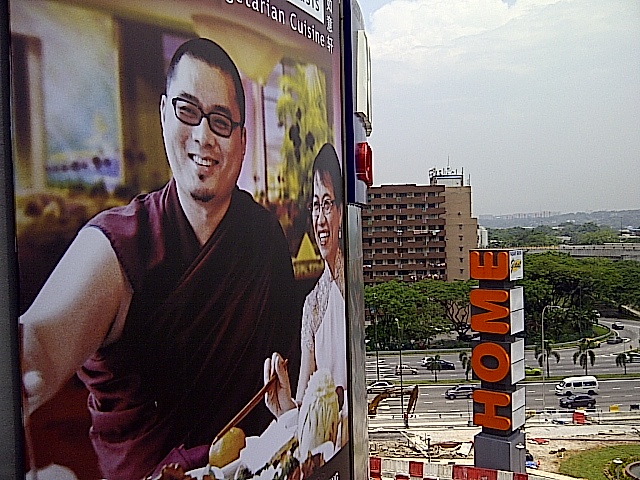 When Kechara Oasis restaurant first opened in Viva Mall, we had our first ever giant Kechara billboard and it was huge and facing the highway. I climbed up some steel steps just to take a picture of the billboard at this angle to give it a feeling of perspective and it turned out quite nice although it was taken from my small little phone.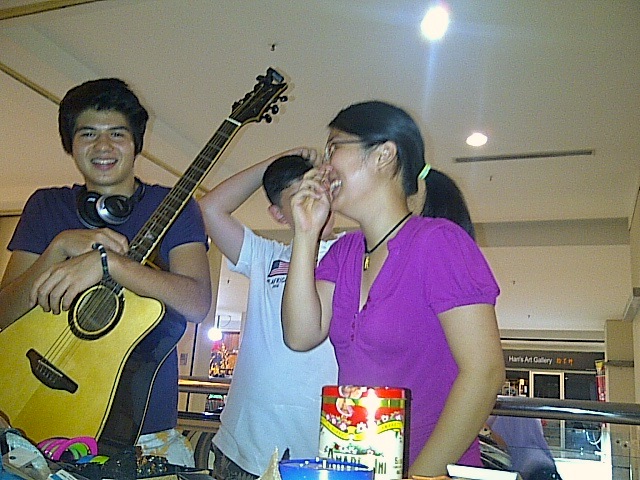 Mathhew with the guitar, Jean Ai and Sean in the back, chilling out on one of our many weekend Amcorp Mall flea markets. Some days, we made a lot and some days, it was pitiful but it was good fun and a good way to give back.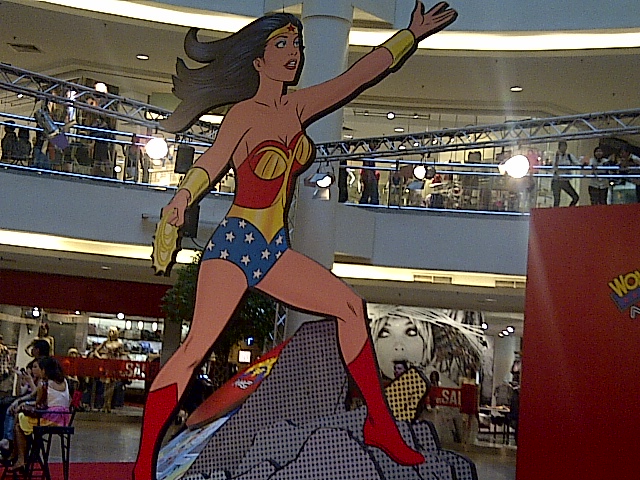 Wonder Woman in 3D came to life in Midvalley and being one of Tsem Rinpoche's childhood comic heroines, I just had to snap this picture. It was so camp and she kinda reminds me of a Vajrayogini minus the garland skulls, knife and skull cup. Well, its actually a MAC makeup roadshow campaign. Love it! It's sooooo camp!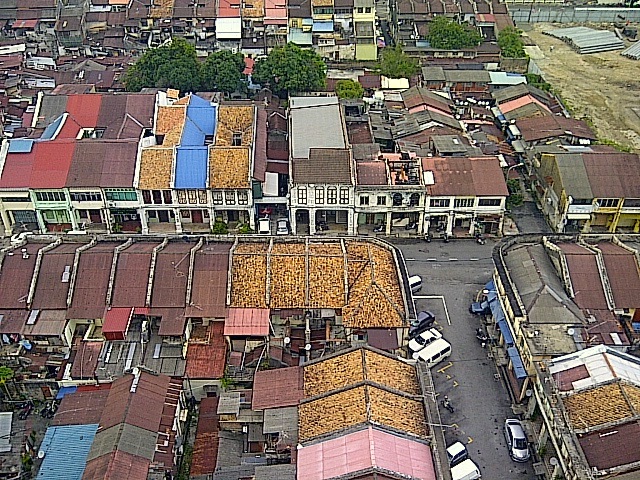 This is Penang as seen from a high-rise hotel right in the heart of the old part of town. I love the sweeping view of the old Penang townhouses. I just wished I had a better camera at that time but this is still not too bad right. I love pictures like this.
I still have a lot more but I will share it another time. That's all for now folks!