6 Jul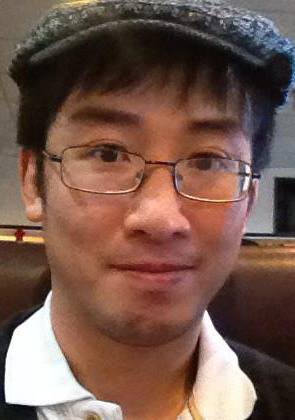 Stephen Tang, a student of Zasep Rinpoche
Recently, I got in touch with a young student of Zasep Rinpoche in Toronto over Facebook. His name is Stephen Tang and we were just talking over Facebook chat and out of the blue one day, he said he would like to offer little Lama Tsongkhapa hats onto the statues at Gaden Choling**, Zasep Rinpoche's center in Toronto and he asked me where he can get it done. I told him that he could get it done in one of the those little tailors within the Tibetan community in India or Nepal or he can get it done with Kechara Saraswati Arts (KSA), the arts department of Kechara. They have a tailor in the department that can can sew up traditional silk brocade thangkas, yellow Lama Tsongkhapa hats and so forth. They even have artists that can paint the detail on the faces of Buddha statues and much more.
(The link to Kechara Saraswati Arts – http://www.kechara.com/arts/ )
He was told that he needed to get Zasep Rinpoche's permission regarding this matter. Finally, word came back that Zasep Rinpoche himself allows and approves of this. Thus began to process of getting the right measurements for this and boy, did he got me a very comprehension measurement of the statues. Then the tailor got to work and voila. The hat was ready. We went back and forth on this matter and finally the hats was sewn up and shipped to the Canada. He received it and offered onto the statue just a few days ago. Just before sending the hats, I messaged him to give him advice on how to offer the hats so the proper aspiration is generated on such an auspicious offering:-
"When you offer the hats, make sure you offer incense and make a prayer to Lama Tsongkhapa and his two son that you will gain his wisdom to be of benefit to others and to always meet authentic spiritual guides and to have authentic Guru devotion. Recite Migtsema and/or Lama Tsongkhapa's dedication. Make sure you do this. It will be very good for you."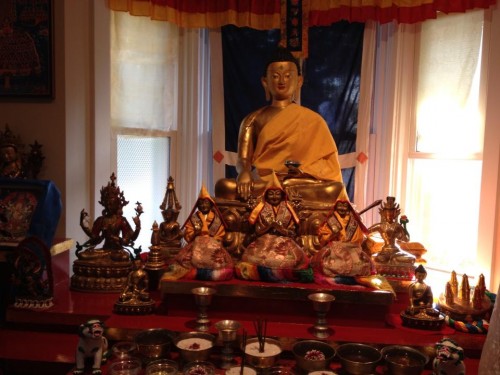 Upon my request, I told him to take a picture of the altar with the Lama Tsongkhapa statues to see if the hats fit and it does fit perfectly!
** I do recall that Tsem Rinpoche had offered a Setrap statue to their center a few years back. Recently, Stephen Tang told me that Zasep Rinpoche proudly showed the statue to his students after a recent Vajrasattva retreat.