13 Sep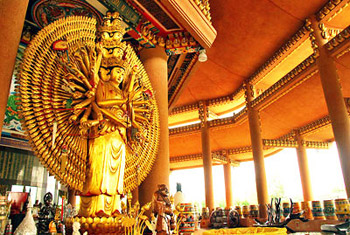 A week ago, Tsem Rinpoche told us a wonderful story of the 1000-armed Kuan Yin. He had just received a book called Words of Power by John Blofeld. The author of the book wrote about his journeys to Hong Kong and China and his studies of Buddhism. In this particular book, he wrote a story of the 1,000 armed Kuan Yin. Rinpoche told the story and I will attempt to tell this tale here with my own words.
In China, there was a temple dedicated to the worship of a beautiful statue of the 1,000 armed Kuan Yin. The monks were strict vegetarians and completely enveloped their lives in the pursuit of the worship of Kuan Yin with meditations and chanting of Tai Pei Chou or the Great Compassion Mantra. Thus, the monks lived a spartan and simplistic lifestyle. One day, a man came to the temple to offer prayers and offerings to Kuan Yin. He was a sort of ruffian and he came bearing offerings of meat. However, he had deep faith in Kuan Yin and reverently placed his offering of meat on the altar and left.
When the monks discovered the offering, they were repulsed by the sight of the meat. They immediately decided to discard the meat. Not long after, famine and pestilence struck the land and the monks of the temple sat day and night, requesting Kuan Yin to alleviate the disaster. After 3 days of chanting, Kuan Yin's eyes shone brightly and completely enveloped the prayer hall with light.
Then, the statue of Kuan Yin spoke,"You should not have discarded the man's offering that day. No offerings are impure when it was offered with a pure intent. We must have compassion on all beings and accept whatever offerings that are given with pure intent. I will now answer your prayers but you must remember what I have said."
The light from Kuan Yin's eyes disappeared and the monks rejoiced.