17 Oct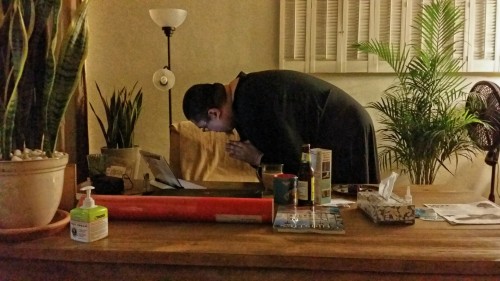 I thought I share these devotional pictures of Rinpoche standing up, bowing and folding his hands while listening to a voice message and receiving a phone call from his Guru recently. Even before receiving the phone call, Rinpoche would offer incense before hand.
That's the amount of reverence that Rinpoche had as if his Guru was physically present in the room. Rinpoche once told me that he saw Geshe Tsultrim Gyeltsen doing this – standing up, bowing his head when receiving a call from Kyabje Zong Rinpoche many years ago. He learnt to do it in this manner. Rinpoche said that he doesn't expect his students to do this traditionally but to reply promptly, politely and to maintain contact with him when he does have contact with them.
I thought I share these wonderful pictures to inspire people to maintain good contact with their Gurus and not to neglect it since they have the good fortune to be in direct contact with their lamas. Even when we don't have direct contact with our lama, we can maintain our spiritual bond through maintaining our sadhanas (daily prayers and recitations), keeping our promises and commitments and be a good representative of our lama.
In the past, practitioners had to write letters or travel very far and across great distances and dangerous terrain in order to communicate or meet with their Gurus. In modern times, we can do this fairly easily using the phone, internet, email, blog, facebook, twitter etc or any other electronic devices. So, its our attitude that determines the spiritual bond we have with our Gurus.