8 Mar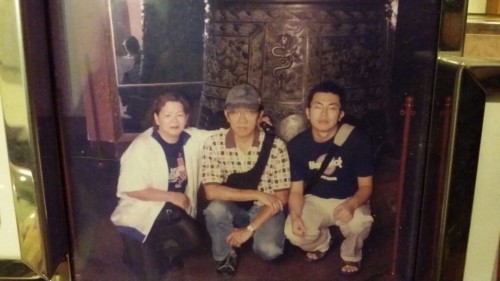 My parents and me
From time to time, Rinpoche had pointed out to me that, I am very much like my parents especially my mom. Well, Rinpoche does not really know my parents but he catch glimpses when I tell him about my parents. Rinpoche is pretty good at profiling people this way. Whatever is the case, I am certainly a product of my parents, a lot of my attachments and dislikes are similar to theirs. Actually, people developed their character based on the example the perceive while growing up. This is not really Dharma but just pure conditioning and we get conditioned while we are at our most impressionable, during our growing up years.
Recently, I was told of a friend whose child is growing up to be a teenage brat. Too bad the family is not in Dharma but then again, I know of some people in Dharma but they are unable to influence the child positively. From time to time again, I have heard of Rinpoche's remedy and I believe that if people would take that to heart, it would make a big difference in the developing the respect needed to guide the child. Rinpoche said that first of all, the best way to ensure that your child grows up right is if you yourself, appreciate the Dharma, learn and practice the Dharma and get more involved in the Dharma center. No amount of coaxing, cajoling or forcing can make a difference in the child's mind to accept the Dharma or be a good individual  if we ourselves are not involved in the Dharma very much.
That's one and another point is that we have to stop coddling the kid and most of the time, the kid is already in their teenage years and should be able to do much more on his/her own. Hence, the parents should not spoil the kid by giving too much pocket money and rewarding (and sometimes bribing) them with expensive gifts. A lot of kids these days get pocket money equivalent to the salary of a fresh graduate and on holidays, they are languishing away playing lots of computer/tv games and watching a lot of TV. In the end, many kids grow up with little or no experience of earning any sort of pocket money. I am not saying that kids should be made to work but I am saying that part of the holidays they can be made to do something more meaningful. Helping out at the Dharma center is one way and the kid getting a little part time job or helping out to do house chores is another.
I know of some parents that dote on their only child (I am an only child too). That is nice when they were a kid but its not really nice when they grow up to become monster teenagers. Parents have to come to terms that children are not dolls and that they do grow up to become adults. So, parents have to be willing to take on tough love to ensure the child learn the necessary skills to be a responsible adult that hopefully would be a spiritual individual as well. Tough love here means taking the necessary measures to ensure that they do not give in to every whim of the child. It may mean sending the kid to boarding school or making sure the kid earn some pocket money by working during school breaks.
Rinpoche said that for most kids that have come of age (in their 20s), should live independently. In fact, they should already be able to live on their own if possible. Many years ago, Rinpoche told me that when I first got to know him that it would be great if I lived on my own. I was in my 20s then and he said that living on my own and help me to become a more responsible individual and this would affect different aspects of my life. It was difficult for me initially but it turn out for the better. For Asian families, this may seem extreme to some but it offers a very effective way to ensure the kid grows up to be successful and matured. Better sooner than later because habits are harder to change when we are older.
These are my thoughts on the matter and not meant to criticise anybody. I thought I share them with the hopes it will benefit someone out there. Parents, if you have anything to say regarding what I have shared, please share in the comments section below. Thank you.