18 Jun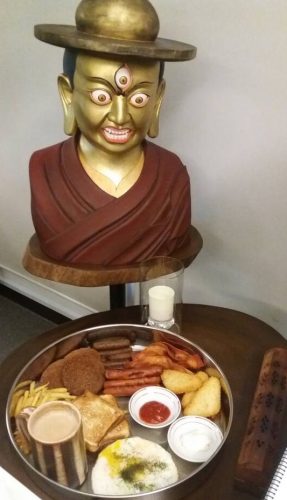 "As a Buddhist, we MUST set aside some food for the 3 Jewels. That's part of our refuge commitments."
I was told that and immediately, I pictured a divine finger up in the sky pointing at me in accusation, "How come a pastor like you is not doing what you are suppose to be doing?" Well, I had imagined the finger but the previous statement is real and the fact that not all Kechara Pastors practice this confuses this person. Well, there's no confusion with me because I don't do this offering.
That is because I already offer my meal as an offering beforehand to Dorje Shugden (although I have to admit I had been lax at times) and this is the same as setting aside some food and fulfils this commitment. Therefore, if its you reading this, rest assure, it is the same and there's nothing to be confused about. Some might prefer to set aside some food on the shrine. I think this is beautiful and a good offering but not practical if you are out and in a restaurant. I know Tsem Rinpoche does this every single day to collect merits for his students and the organization.
We should do the same and in fact, we don't necessarily have to offer cooked food. We can offer foodstuff in cans and bottles that have a longer shelf life. Whatever it is, we should have awareness to make food offerings during meal times and at our personal shrines to develop the quality of generosity within us. Furthermore, we often have plenty of requests and ask so much from the Protector but we on the other hand, we are not generating enough merits for him to utilize in order to help us. Food offering is one avenue to generate merits and to get closer to Dorje Shugden that would allow him to quickly come to our aid. The truth of the matter is that Dorje Shugden or any other Buddha do not need our food but they need our merits in order to grant attainments and assist us. That's the gist of it all and we really need the merits. Quite badly.
The following is a food and drink offering prayer to Dorje Shugden that we can memorize or recite from our phone.
OM AH HUM (3x – purify food)
GANGSHIG DRENPA TSAMGYI CHINANGI
BARCHE KUNSEL LESHEY TRINLEY NAM
TSOLDZE GYALCHEN SHUGDEN RIG-NGA TSEY
TANSUNG KORDANG CHELA CHOPARBUL
All the obstacles from within and without
Completely you dispel and make things clear & fulfil activities,
To the 5 families of Dorje Shugden,
Your great entourage & assistants I offer this.