25 May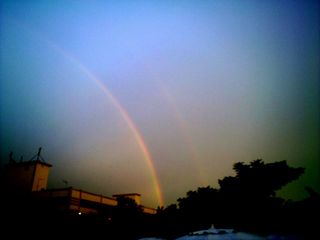 These two rainbows appeared during the Wesak funfair last Saturday. When I first saw it, immediately I thought that the gods are very happy with what we were doing at the funfair. 
Later, I heard that the main brighter rainbow seemed to be emanating somewhere above shop lot No.7. Datuk May Phng along with a few people standing right in front of the shop witnessed this spectacle. 
What's so special with lot no.7? 
Well, it is going to be the new temple of Kechara House. KH1 and KH2 is going to be consolidated into 4 shops starting with lot no.7! It seemed to be a very auspicious omen and a divine premonition of how beneficial the new Kechara House temple is going to be. The rainbow must be a divine omen placed there by Setrap and his 'friend' as a sort of manifestation of our collective dream – KH and KWPC. After all the hard work and braving through obstacles, it is really a sight for sore eyes indeed.