18 Oct
Not too long ago, I turned 30 in Shanghai. It went by so quickly that I hardly noticed it. When I got back from Shanghai, I was caught up with a major crisis of my own doing. Sigh… Consequently, I was a little distracted and now I have finally found the time to think and put things in perspective. 
What I have achieved so far is not really what I originally had in mind and actually, I was never really a go-getter or someone with grand plans anyway. All the planning and go-getting fell down from the sky in form of Rinpoche. Hence, at 30, I did make some headway with the publication of my book – There's no way but up and Vajrayogini coffee table book. Well, this is not to mention being awarded the position as Apprentice to Rinpoche's Liaison Council.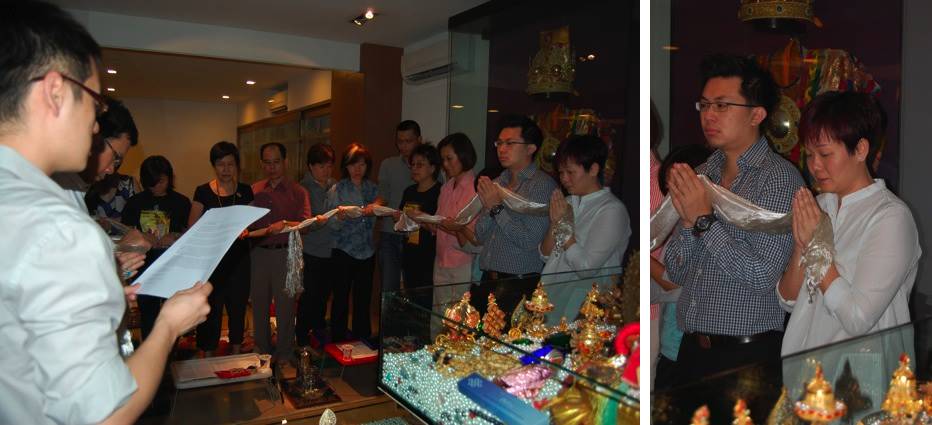 Look! I am trying to be all holy (YSH!) when I swore to Lord Setrap on being appointed.
Being amongst the council is an honour and a yardstick of how much more I have to go to fulfill in order to really be a real liaison. I am not a leader but then again, leaders are not born. There are tall hopes placed on my shoulders and at times I do have my moments of laziness – my greatest woe and foe. It has been a work-in-progress for as long as I remember . I win small battles sometimes and I got to work my way to the bigger ones. Anyway I do hope that when I turn 40, I wouldn't be still where I am right now. 
Hmm, 30…. another year and another decade… I guess, I can only look forward and make the best of what is to come…