27 Jan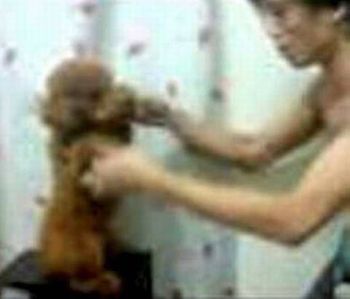 The news is abuzz with a video footage of a brown poodle being abusively trained to stand. What's amazing about this video footage is the amount of publicity it rallied and as a result, so many people want to see the perpetrator behind bars now. I guess that's the power of Facebook and the Internet. 
I am actually amazed that people are so upset over this video but they ignore hundreds and thousands of videos of even worse brutality that occur daily in slaughterhouses around the world. Why get so angry over this man's actions when the very meat that people eat daily supports worse brutality. It's soOOoo contradictory! I am not even an animal-loving person but after watching enough poultry slaughtering, I am cutting out all types of meats from my diet. I am not trying to sound 'holier-than-thou' but being vegetarian makes me feel less guilty during meal times. 
That's why when I saw this video, I didn't feel angry, I didn't swear and I didn't even wish the foolish man behind bars. I actually felt sad for him because he doesn't know the severe repercussions that is waiting for him. What do you think that the poodle did in his previous lives to deserve such torture? Why only feel pity for the dog when the man is heading towards a similar situation as the dog.