2 Jan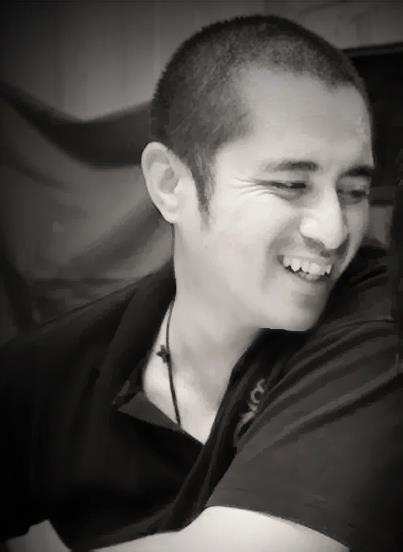 Justin Ripley from New Zealand, a dear friend passed away last week, just barely a day before his mother and brother came to visit him for Christmas. It was so sudden that it caught everyone by surprise. I was shocked when I found out. The first thing I heard was that he was brought to the hospital. I was on my way there when a message beeped on my phone announcing his untimely demise. I was told there were a lot of friends around him and so I detoured to join a funerary puja instead.
I am rather fortunate to have most of my friends healthy, young and alive. So I don't get the chance to experience death much. But this is a death that came too sudden and he was just too young to die. He passed away a 37 year old bloke. I am just 6 years younger than him! It turn out that he had a heart condition that was hereditary and fatal.  His dad passed away a couple of years back and his dad was damn fit – he was surfing when he got a heart attack and drowned.
My last contact with Justin was just the night before he passed away. I 'Whatsapp' him to look for my missing passport in the Haven, the residence of H. E. Tsem Tulku Rinpoche and also his office he spent most of his time at. Justin looks intimidating at times with his cool demeanour but he is really a gentle giant. I have never seen him loose his cool. He is also fiercely loyal to Rinpoche. I met him many years ago and his devotion to Rinpoche has grown tremendously since. I guess it was because Rinpoche had taken really good care of Joy – his wife and the person who introduced him to the Rinpoche.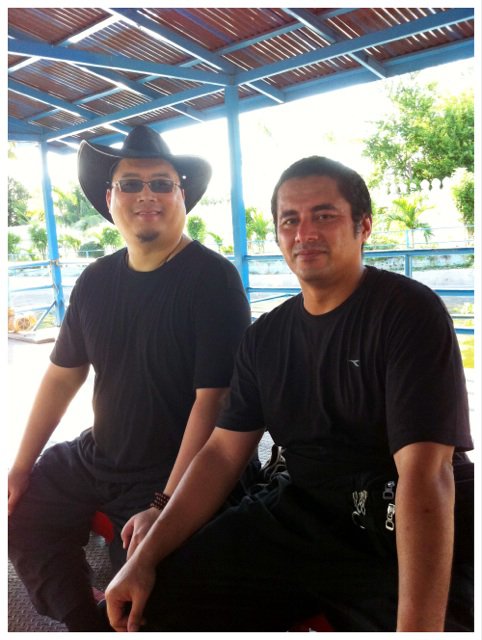 "Me with Rinpoche what merits did I have to have my path cross with Rinpoche. That I can do dharma work and share modern day dharma to the world. Rinpoche has said many times, through a keyboard and a computer we can change soo many peoples lives. Thank you Rinpoche for a precious opportunity. Wat Muang, Ang Thong, Thailand 23, August 2011"- Justin wrote on his Facebook.
Just the last two weeks, I was a part of many conversations Rinpoche had with him – discussing and plotting how to help Joy. He is not normally vocal but on these occasions, he would talk and explain quite a bit. I usually spend a lot of late nights with Rinpoche talking and there was one night or rather morning in the Haven. I didn't have the car with me and he was downstairs sleeping. I woke him up apologetically and asked him to drive me back home. It was a struggle for him but he did it without complain. While driving, I asked how was he and he said that he was never better. He smiled and that smile said a lot of how contented he was with his life. I had a few printed pictures of Protector Buddhas that I got from Rinpoche and I gave it to him. He took it happily and weeks later, I saw that he had placed it on the altar when a group of us came to perform a consecration ritual. He must have wanted to pass it to his brother.
I heard that he was absolutely excited that his brother was coming to Malaysia. He had wanted his brother very much to be a part of Kechara for a longest time and had probably made a lot of plans. He was very close to his brother and is often in contact with him via the Internet. Although he didn't get to say any last words, his last dying wish would have been for his brother to join Kechara and with him in spirit. A Samoan (Yes, Samoan and not Maori as I thought he would have been) bloke like him who has so much faith in Buddhism is amazing. Yes, and what an amazing quiet presence he had been. Everybody would miss him dearly.
I went to see Rinpoche that night he passed away. We were all grieving, talking and sharing about Justin. Rinpoche just remarked that he is glad that Justin spent the last 5 years of his life doing a lot of Dharma via the computer. He had no doubt that Justin would take a good rebirth and probably around Kechara as well. I was so relieved and happy for him. Rinpoche performed last special rite on him by placing a sacred Protector knot on him just as he passed away. We had a very special for him at Kechara House along with his dear family, friends and colleagues. What a way to die! I missed him but I also selfishly thought that I would like to die the same way, doing Dharma work for others right under the same roof as his Lama. That's the best death anybody can have.
Justin, RIP. Have a safe passage till we meet again!
(Pictures taken from Facebook)