7 May
Rinpoche is unusually photogenic although there are many times, I think the pictures' don't really reflect his real life charisma and powerful presence. We just celebrated Wesak Day here in Malaysia and we celebrated it here in Kechara House with a series of events, a fish liberation event in the morning, a baby blessing in the afternoon and then a talk and refuge-giving ceremony by Rinpoche in the evening. Rinpoche's talk is always modern, funny, thought-provoking and very much different than the others. I think these 2 photos below reflect these qualities of Rinpoche's.
Rinpoche with his Stutson hat, umbrella, black tshirt, black meditational pants and black wellies. I love this picture because Rinpoche looks gleefully like a kid in Disneyland. Kechara Forest Retreat is definitely the place that will benefit a lot of people. I don't think it is because it is coming up and that is why he is happy but the fact that it will benefit a lot of people makes him joyful. I am sure it rained a little that day and for some strange reason, the local deities (supernatural beings that reside in the area and control the weather) always love to greet him with a light rain and full on shower. The rain usually stops just as he arrives at his destination. That's the usual experience I have when I go anywhere with Rinpoche.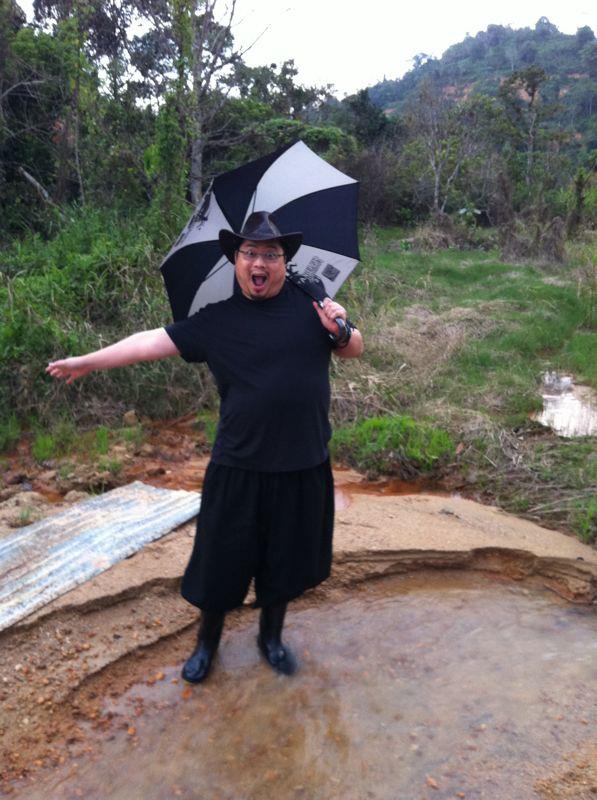 This picture of rinpoche (taken from the recent Esquire magazine article) is so unexpected. Well, I think Rinpoche wanted his picture to be different and it certainly is and still managed to be endearing. He must be thinking about the masses of students that will be coming his way with such media coverage when he took this picture. You see, Rinpoche does not like to have a lot of students as it comes with the emotional baggages, mind games, disappointments and so forth. He takes his role as a spiritual guide very seriously and therefore, has structured Kechara into the many departments that will appeal to different interests and mental aptitudes. His idea is for people to do lots of Dharma work through these Kechara departments that will prepare them for advance spiritual practices later and prepare them for future lives.