4 Sep
From time to time, people often ask me what do I do for a living and I would naturally reply that I write. You know…that I am a writer. Writer of what? Books and a blog. Of course, I am just deluding myself to think that I am some kinda glorified blogger. Then, I would tell them that I work in Bentong, a small sleepy town about an hour's drive from the capital, Kuala Lumpur.
Before they would even continue their line of questioning, I would tell them that my office is in a retreat centre that Kechara is building. People immediately connect a retreat centre with some sort of holiday resort. Well, if you take a look at these following pictures, its not really that far from the truth. It's not really leisure that we are into but more like spirituality and mental development. Naturally, I am very proud of being a part of this beneficial and wholesome organisation. After doing something so beneficial, I cannot imagine pursuing anything else.
Here are some really beautiful pictures that I have compiled from various sources ie Tsem Rinpoche's blog, Jean Ai and JJ's facebook pages:-
The entire property is called Kechara Forest Retreat and it was to be developed in stages. The following is just the first phase of development and there would be bigger and grander plans ahead. The entire place is meant to be a 'retreat' from the hustle and bustle of the city life and to promote spirituality and wholesome living. The development you see here is part of Tsem Rinpoche's ladrang or household.
Manjushri Hill
Manjushri is the Buddha of Wisdom and therefore, he is also the patron of writers, artists, intellectuals and such. So, it was apt that Rinpoche name the hill Manjushri as a special blessing on those who work here as the work is meant to reach out to millions and to have Manjushri bless the work so it would be beneficial to these people. This is where I work and where I spend most of weekdays in Manjushri Hill, furiously writing along with other works.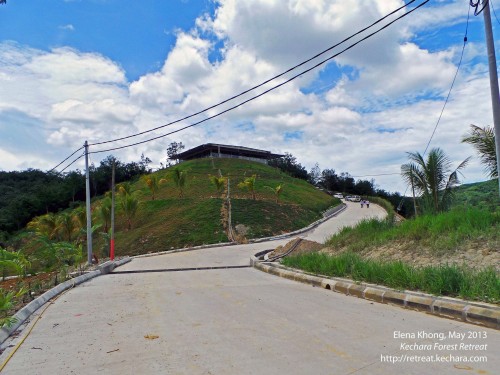 This is the road up Manjushri Hill and the building on top is the office that I work in. This was taken a while back and there is now a gate that prevents unauthorised vehicles from going up the hill. I must say that the path up the hill is a short walk but also a good exercise.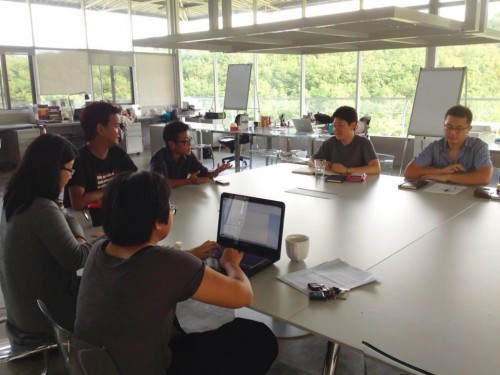 This is what inside looks like. That's me in blue check shirt in a meeting with the team (I am talking about the picture above). It's just an enormous open concept office with a large meeting and production table with a row of desks facing huge surrounding windows that look out into the vast green horizon. Of course, when the sun is up, there is blinds that one can pull down but the best time to look out is at dawn when the sun is rising and the mornings mist blankets the rolling hills. The other time is at dusk when the sun is setting and the landscape is bathe in dim light and its cool to go out and stare.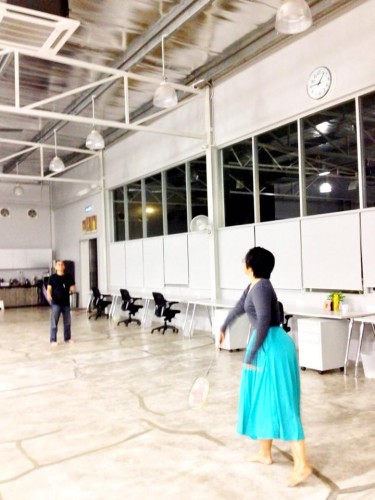 The room is so vast, we could even play badminton on our little breaks. We actually have a ping-pong table for those interested and that's on the other side of the room. The ceilings are high so its not too bad for badminton. Besides these, we have a flatscreen TV and a sofa set to relax and unwind although all of us nerds usually prefer to watch YouTube than DVDs. That's not to mention the magazines and books that are on the glass coffee tables.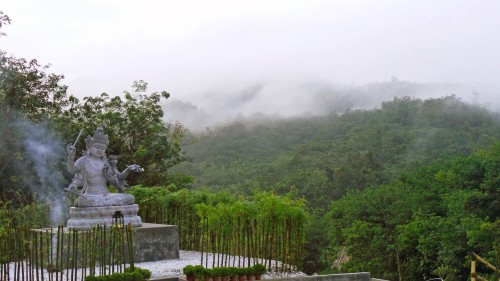 Believe it or not, this 4-armed Manjushri statue sits just outside of our office. Check out that view! What's funny. I love to come out to enjoy the morning fresh air and this view. However, this is rather rare as I usually do not wake up early enough to enjoy this view.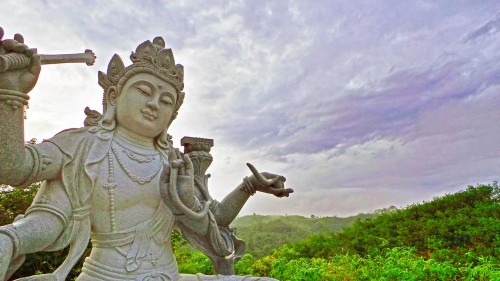 Here's a spectacular closeup of the mighty Manjushri set against a lush and green backdrop. I know, I am beginning to sound like a travel brochure. Anyway, I love to come out and offer a little candle, do some prayers and gaze at Manjushri while enjoying the fresh air.
Dukkar Apartments
While working in Kechara Forest Retreat, I have the privilege to stay in Dukkar Apartments. This is special and very stylish accommodation for those who work here. There are also rooms for guests who volunteer but that's of course on invitation of the ladrang.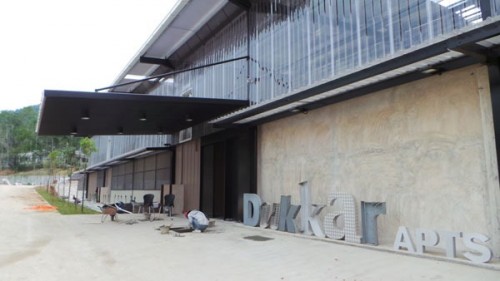 The main entrance of the Dukkar Apartments and you gotta love that zany signage.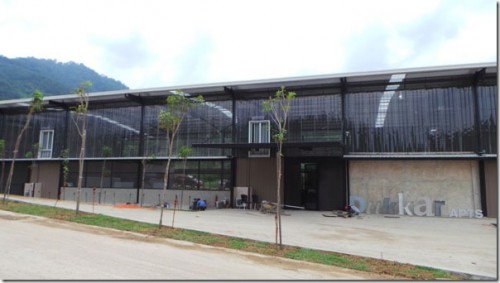 Here's another view of Dukkar apartments. If you look closely, it is actually made out of containers placed strategically as rooms under a huge awning. I must say that this is indeed a very creative idea. Dukkar by the way is the powerful female Buddha of protection and her name literally translates as White Parasol.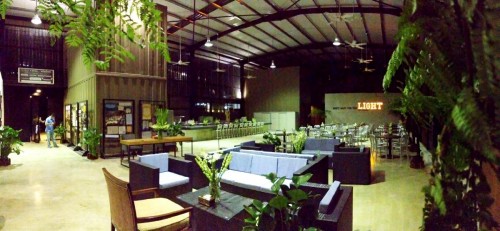 Check out this amazing space that combines the reception, lounge, dining room and kitchen. It' s simple, stylish and I love the lit quote at the far end of the room. It's just so beautiful!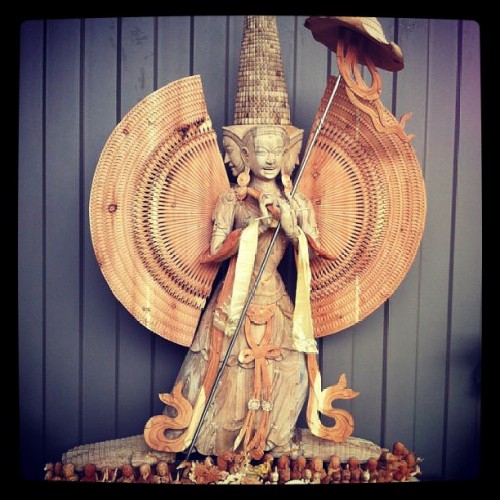 Naturally, there must be an image of Dukkar to lend her protective blessings on us all. She was made by JJ and isn't she a beauty with a thousand faces, hands and legs. This is just incredible sacred artwork. This is a great object of offerings and prostrations. Now, if only they would allow lots of incense.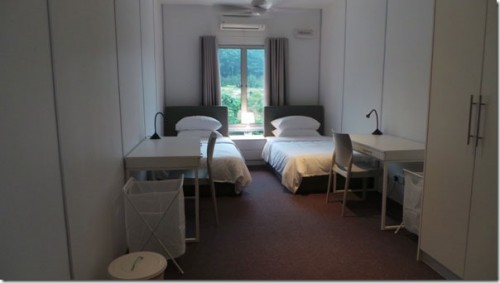 Check out the nice, simple but extremely comfortable rooms. This is the basic room which I am sharing one with Paul. However, my container-room is on the ground floor though and I love it. It's quite cool even at mid-day.
A nice video on Dukkar apartments. Check it out:-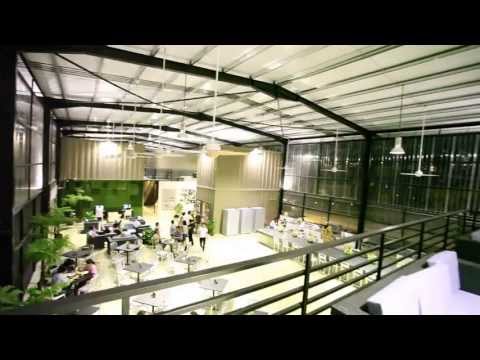 Wisdom Hall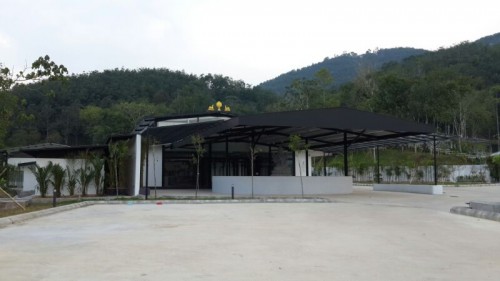 If you are wondering what this building is about. It is Wisdom Hall just across from Dukkar Apartments. It is a large prayer hall to a most spectacular statue of the Buddha. A group of close students and friends of Tsem Rinpoche regularly perform pujas here and more plans are in the works to have retreats and other spiritual activities.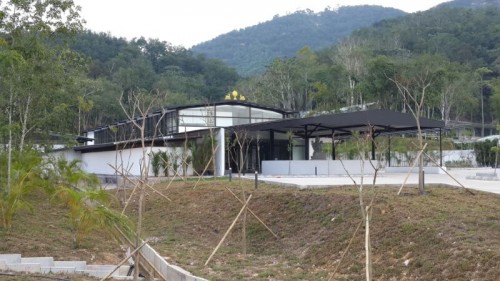 Here's another view of the prayer hall. The 3 yellow little things on the roof is actually a representation of a Dharma wheel in the center and accompanying deers. The Dharma wheel is symbolic of the Buddhadharma and the deers evoke the Buddha's first turning of the Dharma wheel (meaning giving his first teaching) on the 4 noble truths at the deer park in Sarnath. The deers also represent Bodhisattvas and in Tantric view, the male deer on the left represents realisation of Great Bliss and the female deer on the right represents the realisation of emptiness. Thus the wheel represents the union of both realisations in order to gain Buddhahood, which is also known as the Union of No More Learning.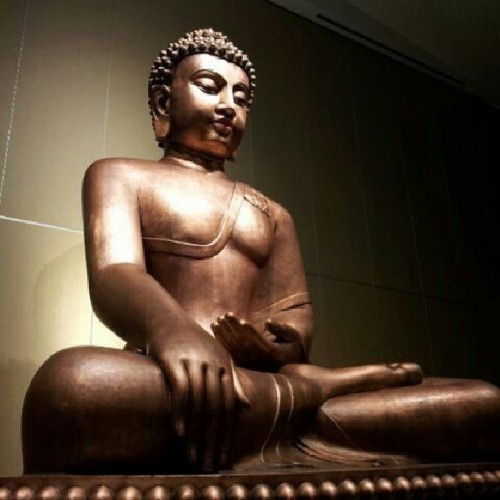 This spectacular 12 feet Buddha image was carefully and specially made by Paul Yap. He has an incredible eye for detail and managed to recreate the minimalist and elegance of antique Buddha images from Buddhist India. This is the main image at the prayer hall and thus, it floods the hall with meditative tranquility.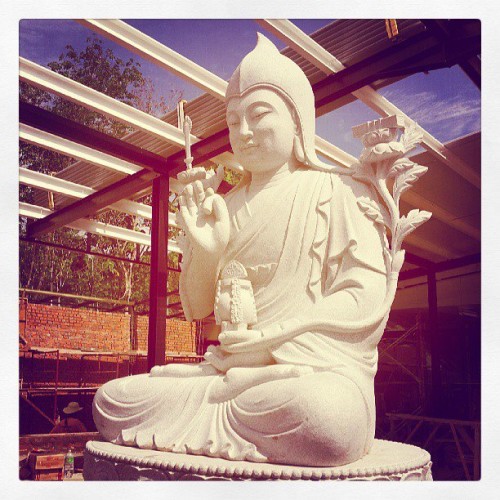 The image at the front is a stone Lama Tsongkhapa, the Holder of Life Force, Je Zhe Zinma. This is a long life form of Lama Tsongkhapa, bestowing riches in material and spiritual forms of wealth. He represents the powerful lineage that we belong to and the object from which many candle and incense offerings are made. I dunno why but I have always found image of Lama Tsongkhapa particularly warm and spiritual to me. I guess its a sign of affinity with Tibetan Buddhism.
Here's a neat little video of Wisdom:-
Just in case you are a little confused about the places and buildings I am talking about. Here's a bird eye's view of it all :-