14 Feb
I love Buddha images!… particularly from the Indo-Tibetan tradition. I think I appreciate them both from an artistic as well as from a devotional standpoint. I guess I got this from Tsem Rinpoche's passion for explaining, obtaining and giving out some of the most exquisite Buddha images. He said that as lay folks, we should place great importance when setting up a shrine because it would probably be our biggest source of purification and collection of merits.
Anyway, I recently rediscovered a whole treasury of high-res images on Rinpoche's blog. It was meant for people to download, print and meant to be an object of veneration. I thought I put together a collection some of my favourite images here. All of these images I have collected here are from Rinpoche's blog except for the pictures of the Zanabazar Tara statues at the end. Feast your eyes and be blessed…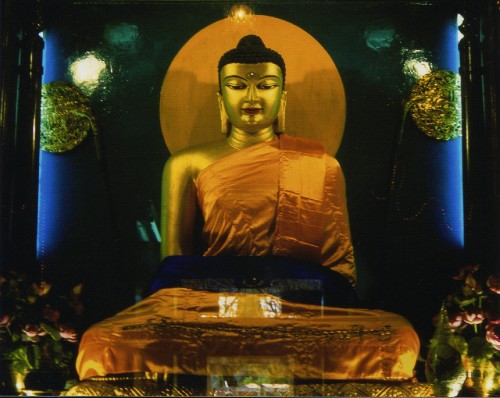 This is probably the earliest statue of Lord Buddha and according to Rinpoche, it is carved according to the description of a woman who had actually met the Buddha when he was alive. It is said to be the closest to the likeness of the Buddha. Over time, it was lost and rediscovered by the British archaeologists in Bodhgaya, India. It is actually carved out of a dark-colored stone but His Holiness the Dalai Lama had it layered in gold.
I had always loved the Indian pandits… I guess because they had developed a powerful way to present the Buddha's teachings in a logical and systematic manner especially against the onslaught of fierce opposition of the other Indian religions. This thangka depicts some of the more famous Indian pandits surrounding the Buddha. Traditionally, it is suppose to have the Two Supremes (Nagarjuna and Asanga) and 6 Ornaments (Aryadeva, Vasubandhu, Dignaga, Dharmakirti, Gunaprabha and Sakyaprabha). But this one include Atisha and some other pandits I am unfamiliar with.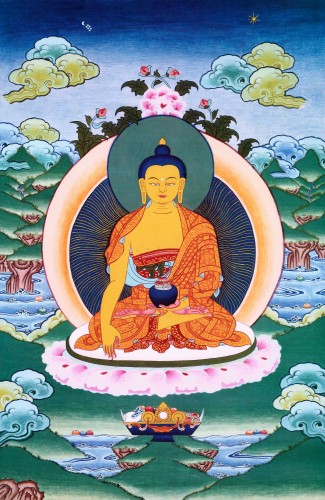 This simple thangka of the Buddha reminds me of the one used for a makeshift alter that was setup years ago before the renovations of Kechara House commenced. It reminds me of simpler times I guess.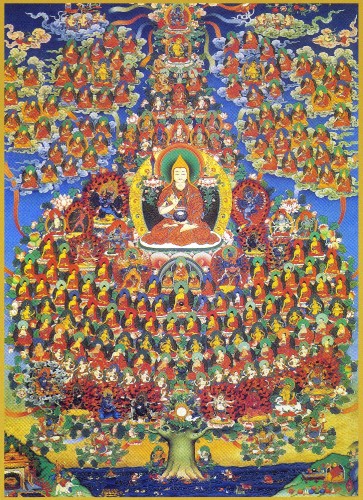 This bewildering image is a Gelug Refuge Tree. Each Tibetan Buddhist tradition have their own refuge tree and this one is the Gelug one centering around the incomparable Je Tsongkhapa, the founder and great elucidator of the Buddha's teachings. Love it for its intricate detail and rendering that seems to give the impression that each Buddha is sticking out of the image… much like a 3D effect. Love it! Also, I believed to have seen it for the first time in Rinpoche's ladrang before I even knew anything about Buddhism.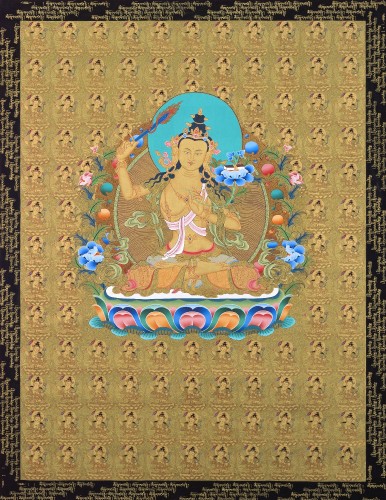 Ahh! I love Manjushri! But this is not a particularly wonderful Manjushri but it is a copy of a Manjushri thangka I sold while I was working in Kechara Paradise and about to enter ladrang to assist Rinpoche. You see, I am not a particularly fantastic salesman and so I took this sale to be a good omen for my next step. What's unique about it is that there are 108 Manjushri's rendered in gold leaf while the large central figure is highlighted in color.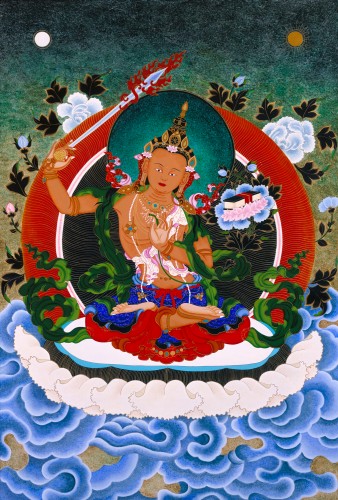 Now, this beautiful painting of Manjushri was painted by a student of Rinpoche and it was based on an original picture of Manjushri that used to be a childhood favourite of Rinpoche's. This painting is detailed and absolutely divine! Would love to have a huge print of this Manjushri on my wall.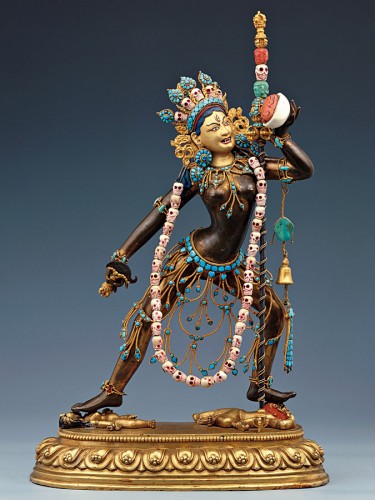 Vajrayogini is a powerful tantric practice advocated by Rinpoche and Kechara for everyone to eventually receive her initiation and master her meditations. Her meditations are embodied in her form and thus, her image is both sacred and powerful way to create merits in relations to achieving her meditations. Thus, i really like this  antique statue of Vajrayogini that's believed to be made during the Chinese Qing Dynasty. It's exquisite and extremely well-made although it is quite tiny. Rinpoche has one like this statue that was once part of the treasures of Tashi Lhumpo monastery and was given to him by his biological father.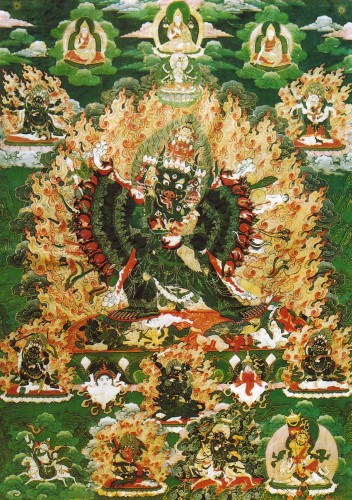 This is another antique thangka of Yamantaka that is extremely well painted and intricate in detail and seems to evoke the power and ferocity of this wisdom deity. As an emanation of Manjushri, Yamantaka is believed to be the Vajra (indestructible/divine) Terrifier that is part of a powerful meditational practice. Naturally, I am drawn to Yamantaka's magnificence and power.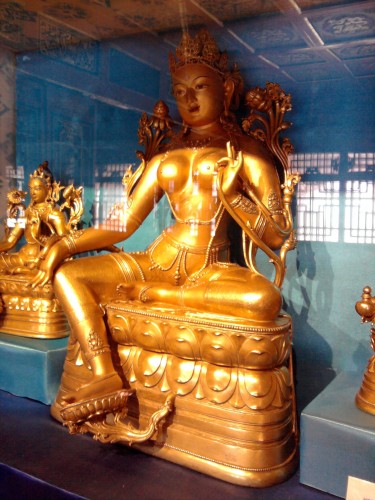 This Zanabazar Green Tara statue is probably one of the most beautiful statue of Tara I have ever seen. She's maternal, sensual and majestic. Zanabazar is not just a style but a Mongolian lama who had tremendous contributions of establishing monasteries, furthering the teachings and also in the realm of devotional art pieces like this one.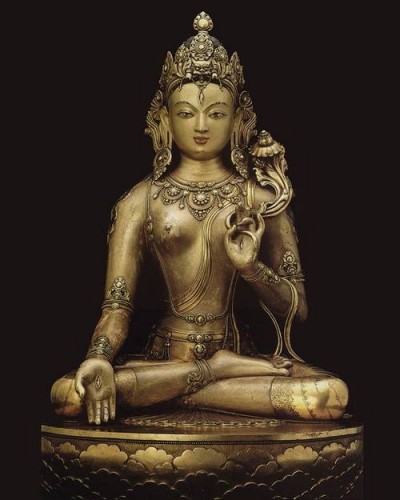 Behold this Zanabazar White Tara statue. It's hauntingly beautiful, proportionate and refined. Her face is painted and although faded, one could still appreciate her unearthly face. The lotus that she sits on is rendered in an almost modern and graphic manner. If money was no object, I would get a skilled artisan to recreate these antique statues.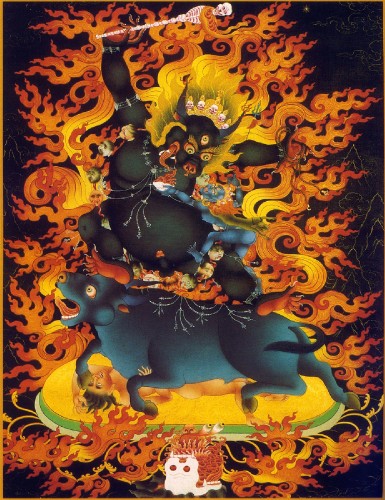 This is Kalarupa and his puja is something I perform pretty often to purify negative karma and avert great obstacles. An emanation of Manjushri, protector of the Yamantaka tantras and the protector of the whole of Gaden monastery, he must be pretty effective. Like Yamantaka, he is bull-faced and not a deity that's considered appealing but somehow, there's a draw to his unique form. This rendering looks like he is glowing and has an 'electrifying' appearance.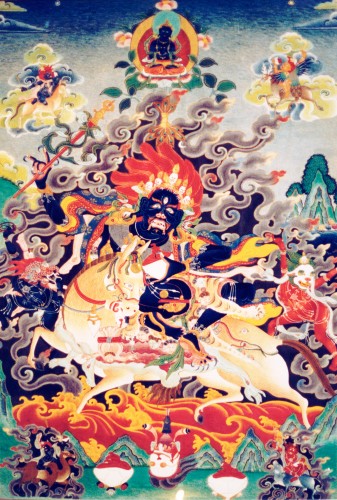 Pelden Hlamo… is how rinpoche spells and pronounces this unique protectress. She's the ferocious protectress of the Dalai Lama and also a unique emanation of the peaceful lute-bearing goddess Saraswati. To me, she has a dream-like quality. The first time I saw her in Rinpoche's ladrang, I recalled an old dream I had. In my dream, I saw a picture of her hanging on my aunt's altar. The thing is… I have never seen her before and my aunt does not have such an image. It's was all very strange and surreal.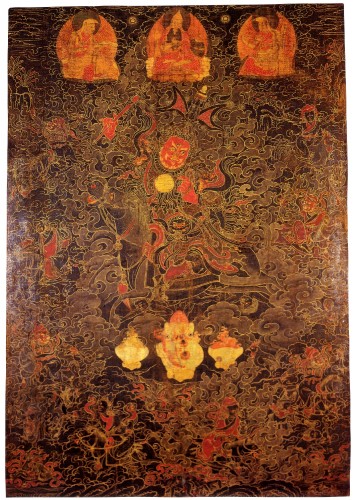 This is an old nakthang rendering of Kechara's Protector Setrap. Nakthang is a style of painting the outlines and highlights of the deity in black. Needless to say, this is an antique thangka and one that is done really well and leaves an impression of divine power upon the beholder. That's why this is my most favourite image of Setrap. He is old, he is grand and he is incredibly protective and powerful.
That's all folks. These are my favourite images and I am glad to share them. You can click on each picture and download it if you like or check out Tsem Rinpoche's full collection here… http://www.tsemrinpoche.com/?cat=60