27 Apr
Hello cyberspace… Long time no see. I apologize for my long absence from blogging. I thought I come back with a bang and my big bang here is a post on my Pastor ordination. Yup, I am officially a Pastor now… A Buddhist one that is. I know some Christians lay claim to the fact that Pastors are lay ministers in a Christian church. But, that is not necessarily true as the term pastor had also been in use in some Buddhist traditions in the West. Anyway, all I can say is it is just a religious term that is not exclusively meant for any one religion.
So, what do I do as a Pastor?
As a Pastor, I assist Rinpoche to share the Dharma (which I have always done as a senior student of Rinpoche's), perform rituals and ceremonies along with the other Pastors. Consequently, the Pastors have to hold the 8 Mahayana Precepts for the duration of our pastorship. The vows empowers us with merits and the frame of mind to benefit others. Pastors are not monks and nuns (not yet at least as for some, this would be a step towards receiving full ordination) The vows does not include celibacy.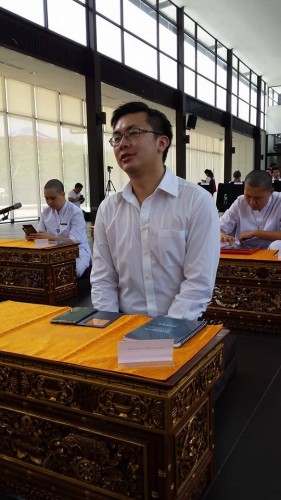 Rinpoche asked me a couple of months back if I wanted to be a Pastor. I said yes and he asked me why and I told him that I have been doing some of the work of a Pastor so its just just a matter of the next step – ordination and receiving the vows. So, here I am on an early morning of April 17, 2014 with a bright and crisp white shirt, smiling and all ready to receive my vows. By the way, the ordination vows are given by Pastor Yek Yee.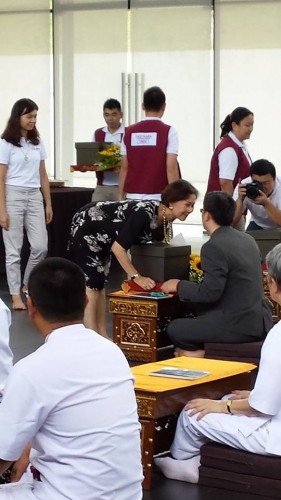 After receiving my pastor ordination vows, Buddha pendant and the hair cutting ceremony, I got into my Pastor suit and received a package of my pastors uniform in a box. Datuk May Phng, the president of Kechara House presented the package on behalf of the organisation. The attention was flattering because so many people lined up to congratulate, offer a khata and angpaos. Yes, exciting but dared not pocket the money. I donated it all back to Kechara. Some earlier angpaos I had received before the ordination, I donated it to Tsem Rinpoche's Foundation.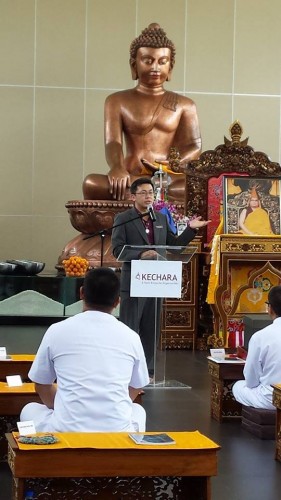 Before the ordination, we were told to prepare a 10 minute talk on a topic of the lamrim as well as a short introduction of ourselves and our personal goals as a Pastor. As much as I love to share the Dharma, 10 minutes was rather squeezy to talk about so many things but somehow I managed.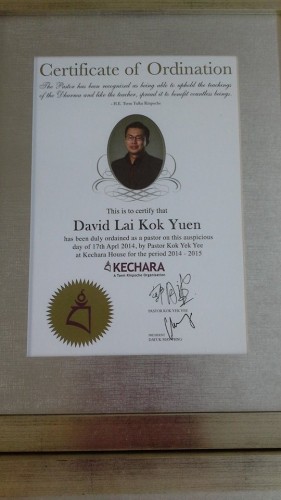 Here's a little certificate to let people know that I am a legitimate Pastor of Kechara House. Someone did ask me how would I like to be known as? Pastor David Lai or just Pastor David. I told her Pastor David is fine and if that's too long, PD is also alright.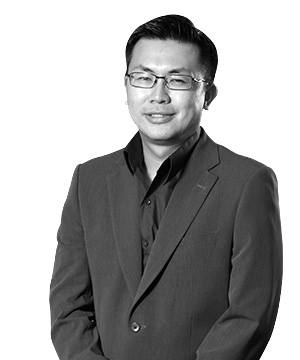 My official Pastor portrait in uniform that I initially hated because I thought I look bloated but I like it now. Just gotta let go of the fact that I am no longer the skinny chicken I once was. Hehe! Just wish I opened my eyes bigger though. I look like I am squinting here.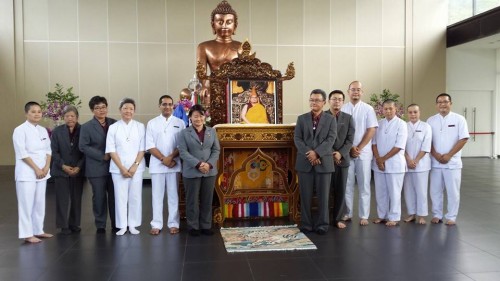 Here's a group Pastor portrait with 3 of the newly ordained Pastors – myself, Pastor Henry Ooi (next to me in grey suit) and Pastor Niral Patel (next to Pastor Yek Yee in white and the only Indian here) The fourth pastor is not in the picture because he is in America serving Rinpoche and he took the vows via skype. Anyway, he is Pastor Seng Piow.  Incredible what technology can do to bridge the distance. Those in white uniform are pastors in training that have plans to be ordained as a fully ordained member of the Sangha.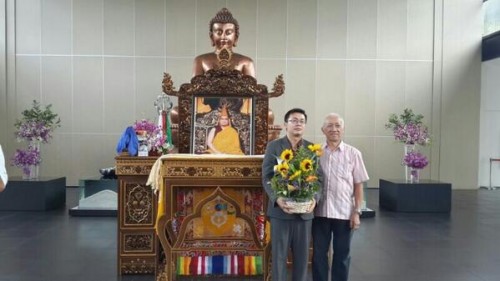 I love this last picture because it was with my dad and the sunflowers my mom sent via my dad. She couldn't make it because she had to go to Church for easter celebrations. All the same and my pastorship is dedicated to their happiness, long life and good rebirth (a thousand years from now).
Here's a recording of the pastor ordination ceremony(apologies for the poor quality video):-