5 Aug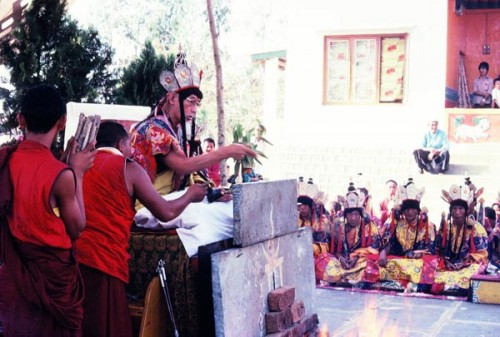 Kyabje Zong Rinpoche was known to be an accomplished debater and Tantric master who developed occult powers due to his meditational practice. 
Kyabje Zong Rinpoche is Tsem Rinpoche's root Guru and is one of the greatest masters to have escaped Tibet after the Tibetan exodus into India. In the late 1980s, Kyabje Zong Rinpoche arrived in Los Angeles at the invitation of Geshe Tsultrim Gyaltsen at Thubten Dhargye Ling at St Andrew's. This was where the young Tsem Rinpoche who was raised in New Jersey and living in LA at that time, met him and a deep spiritual relationship and awakening ensued. They shared an unusual bond and closeness that defied language and culture. A transmission of not just teachings, initiations but also a deep purpose that set off Tsem Rinpoche unto the road of monkhood. The following stories were narrated by Tsem Rinpoche on his blogchat of incredible stories of the imcomparable Zong Rinpoche….
———————–
His Holiness Kyabje Zong Rinpoche was considered a direct incarnation of Kedrub Rinpoche the wrathful student of Je Tsongkapa. Whenever you see Tsongkapa, along his left and right have two erudite students. The one on the left is Kedrub Rinpoche. It is said Zong Rinpoche achieved one-ness with Heruka Buddha (Chakrasamvara) lifetimes ago. Setrap took trance of the Gaden oracle (who has passed away now) and Setrap said clearly Zong Rinpoche is Kedrub Rinpoche the close disciple of Tsongkapa. This oracle was famous in Gaden Tibet. When we do our practice sincerely and surrender our attachments, we can gain much attainments and 'powers'. But the ultimate is to achieve Bodhi mind and emptiness.
Another time while Zong Rinpoche was doing pujas in his home (ladrang), suddenly a group of people with a screaming frantic woman came in through the gate.The group holding the 'crazy' woman' was begging for Zong Rinpoche's help. Zong Rinpoche came out and calmly asked for a chair. He sat on the chair recited some mantras for a few moments and then very loudly and fiercely asked the woman "WHO ARE YOU AND WHAT DO YOU WANT???!!" When he said this to her, she immediately fainted. When she came to, she didn't know what was happening. She asked people where she was and what happened. They informed Zong Rinpoche this happens often to her. She was taken possession of an evil entity and Zong Rinpoche expelled it immediately just by his fierce wrathful compassionate voice.. After this incident, she never took 'trance' of this entity again and lived a normal life. Zong Rinpoche's occult powers were famous among the monks of Gaden, Sera & Drepung and the Tibetan communities.
Much black magic was sent to H.H. Zong Rinpoche also. There was one time a group of students were sitting in the room with Zong Rinpoche in his private chambers in Gaden. People witnessed balls and streaks of light hitting and entering the roof of Zong Rinpoche's house. One person in the audience saw the light penetrate the roof and through the ceiling and 'hit' Zong Rinpoche's arm. Zong Rinpoche's arm appeared immobilized for a moment. Zong Rinpoche signaled Gen Tsoncha to keep silent and Zong Rinpoche recited some mantras and blew on his own arm. Then his arm can move immediately again. This was witnessed by close students such as Gen Tsoncha who told many in Gaden.
Another time a group of people got someone who sounded like Zong Rinpoche's voice on tape. They mixed some of Zong Rinpoche's teachings and then inserted this person's voice into the cassette tape, back then it was cassettes and no cds.. Then they brought the cassette with Zong Rinpoche's 'voice' to His Holiness the Dalai Lama. It was criticism against Dalai Lama supposedly from Zong Rinpoche. Dalai Lama listened to the cassette tape carefully and said clearly THIS IS NOT ZONG RINPOCHE AS HE WOULD NOT SAY SUCH THINGS. Their plans were foiled because they wanted to defame Zong Rinpoche. HH Dalai Lama never said anything further about it according to Zong Rinpoche's close assistants. They tried many times to harm Zong Rinpoche.
His Holiness Kyabje Zong Rinpoche was a spiritual Ninja of the highest order. Next day at teachings, Zong Rinpoche told the whole audience that someone try to stab him through the window. Just before the hand with knife came in through the window, he had a very vivid dream of Four Faced Mahakala's face 'charge' at him suddenly and the suddenness of it woke Zong Rinpoche and when Rinpoche woke he saw the knife in a hand. Zong Rinpoche grabbed at the hand, but the guy got startled and ran.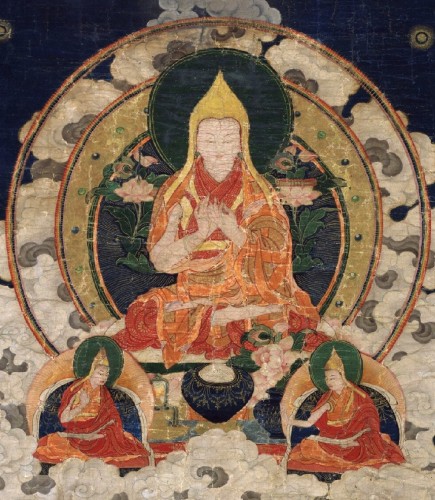 Kyabje Zong Rinpoche was known to be the known emanation of Kedrub Je (sitting on the right), the heart son of Je Tsongkhapa 
This is the King of Dharma and Master of all Three Realms Manjunatha Tsongkapa. To His left is Gyaltsab Je or Gyaltsab Rinpoche who is Chenresig incarnate. To the right is Kedrub Je or Kedrub Rinpoche who is considered Vajrapani incarnate. These three are in millions of homes, temples and shrines in Tibet, Mongolia, India, Nepal, and the world. His Holiness Zong Rinpoche is the direct incarnation of Kedrup Rinpoche. I thought I would share that with you all.
These two (Kedrub Je) were very close to Manjunatha Tsongkapa and went everywhere with Him. It is said they both had the same knowledge and attainments as Tsongkapa Himself, but out of humility they showed great deference to their teacher Tsongkapa. But they were great and eminent teachers themselves. When Kedrub Je first met Tsongkapa, he arrogantly sat on a nearby throne same height as Tsongkapa and was very fierce. As he listened to Tsongkapa's teachings, his head bowed and stooped and slowly crawled off the throne and sat on the floor and became Tsongkapa's heart disciple. He was a great Sakya scholar. Kedrub Je was a great master of Sakya tradition till he met Tsongkapa and continued to lean.
Zong Rinpoche was very ill with walking stick and cannot barely move. Setrap took trance in the Gaden oracle and went to Zong Rinpoche's house and personally offered mandala to Zong Rinpoche to extend his life. Zong Rinpoche refused. So Setrap relented and said, stay and oversee the unmistaken incarnation of Trijang Rinpoche is discovered and enthroned. Stay until Trijang Rinpoche's incarnation is found and enthroned. To this Zong Rinpoche agreed. Zong Rinpoche's diseases disappeared, he didn't need a walking stick and became robust again. Zong Rinpoche oversaw the complete procedure of Trijang Rinpoche's discovery and incarnation. Afterwards, Zong Rinpoche thanked his assistants after breakfast, entered clear light for three days and passed. He had full control over his winds, channels and drops and showed clearly his mastery of tantra. We do reincarnate, it's just Zong Rinpoche controls his and where he goes and when he goes. We can achieve that thru tantra.