12 Feb
I have been away for 6 months in LA and people often ask me if I miss LA. Yes of course I miss LA but then again, its good to be back home in Malaysia and to be with familiar people. I guess, one of the more memorable places of my travels through Tinseltown (Hollywood/LA) was a series of roadside stops to view what would seem like the most ordinary corners of any city. However, there is one big difference though and that is the fact that these were the actual places I have heard Tsem Rinpoche talked about over and over again. They were places where he lived, worked and studied under the feet of great Tibetan masters. And all this is in LA! It was surreal to see them in real life .
The following are some of the pictures that Rinpoche shared with me while I was touring these sites and some of which I took myself along with some anecdotes :-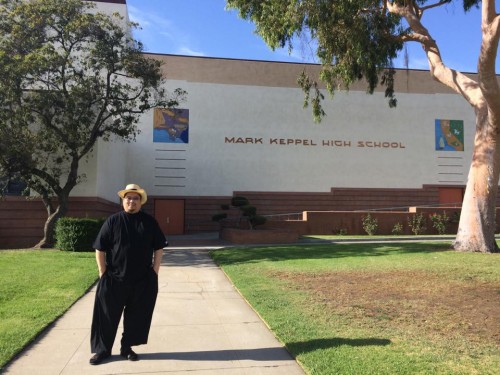 This is Rinpoche of course, in front of Mark Keppel High School where he got himself enrolled in when he first arrived in LA in the early 80s. He had just runaway from New Jersey at that time. He got his GED here so he was able to legally work and support himself. LA was a tough city to be in especially when one is a young runaway. (Picture courtesy of Pastor Jean Ai)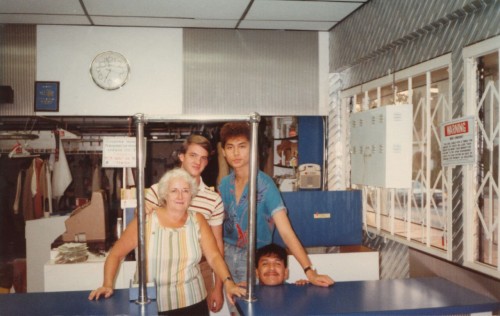 This is an old picture taken in Sun cleaners back in the days when Rinpoche (in blue) used to work as a teenager to support himself.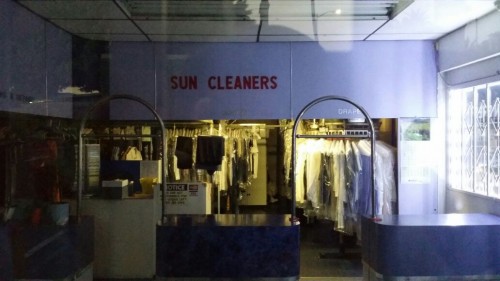 This is inside Sun cleaners today. Nothing much has changed! The place is owned by Koreans now. Rinpoche told me, "Yes, I was working here in the evening when I got the call that Kyabje Zong Rinpoche passed away. I asked for the evening off and went back to 135 St Andrews place to do puja…. It changed my life."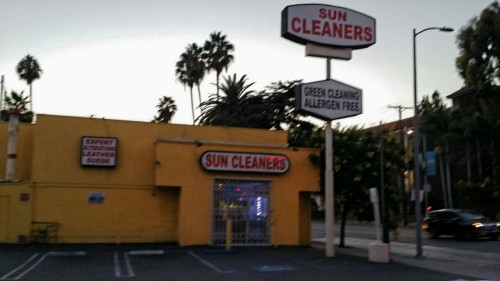 Guess what? Sun cleaners still exists! Rinpoche said it looks exactly as it was back then. Nothing much has changed.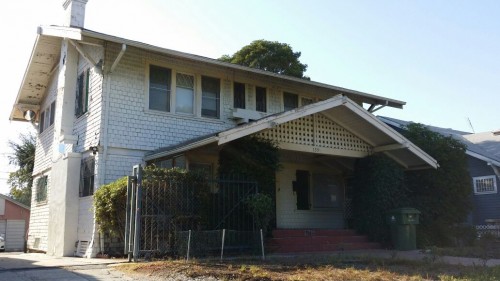 This house in St Andrew's place used to be Thubten Dhargye Ling (TDL) at St Andrew's Place near Santa Monica Boulevard. This is the place of innumerable Dharma teachings from Rinpoche's Guru, Geshe Tsultim Gyaltsen including the place where Rinpoche met Kyabje Zong Rinpoche, received teachings, initiations etc and… where Rinpoche made the sacred promise to become a monk. This is very significant because I probably wouldn't be in Dharma and a pastor because I wouldn't have met Rinpoche if that didn't happen.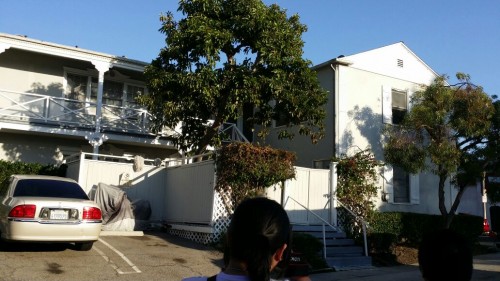 This is the place TDL moved to (from St Andrew's place) and he lived in this house at the bottom right room before leaving for India. Rinpoche said as young man, when he went out to party, he would release the handbrake and roll the beetle down the little slope (where the white car is) so as not to disturb his Guru. However, even when Rinpoche was partying, he would still attend teachings, did his sadhana without break and retreats as well. Geshe Tsultim Gyaltsen would give teachings here every Sundays and Rinpoche would attend them. Rinpoche met Lama Osel briefly (Lama Yeshe's incarnation who took rebirth as a Spanish boy) and Gaden Tripa Jetsun Jampal Zhenphen.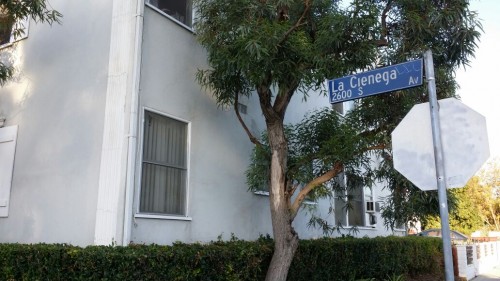 Rinpoche said "We use to hear gunshots always as it was a dangerous neighbourhood when we were there. Also there was a lot of earthquakes. We had to run out of the house. I lived at the apartment on the bottom to the extreme right (the room with this window). Geshe la (Geshe Tsultrim Gyeltsen) lived directly upstairs. He had two apartments. One was his bedroom and the other living room and kitchen. From here I left USA to India."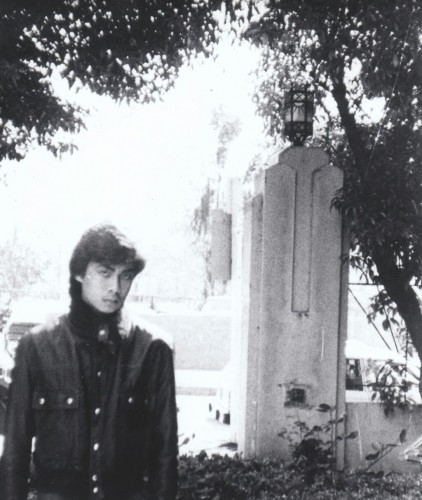 Rinpoche sent me this picture and he said "This is me in front of Fenmore Apts on Sunset Blvd." Fenmore Apartments was another place that Rinpoche used to live.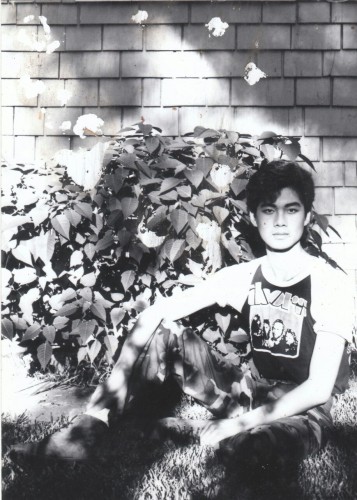 Then, Rinpoche sent me 2 more pictures and said "Another of me in front of Fenmore apts on Sunset. I lived here for a while on my own. I starved to death here as i was very poor living in this studio apt."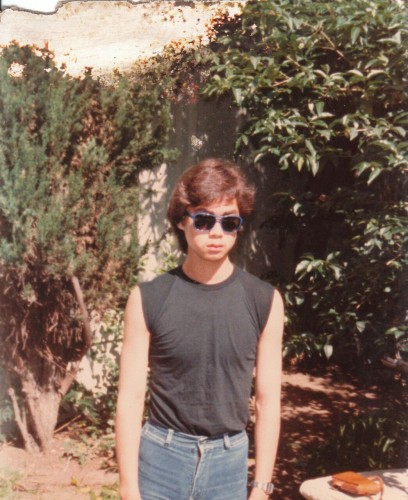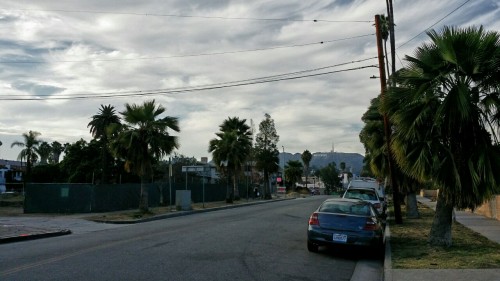 On the left side of this road is the site where Fenmore Apartments used to stand. This road is just off Sunset Boulevard as Rinpoche had mentioned. If you look closely, you can see the Hollywood sign in the hills.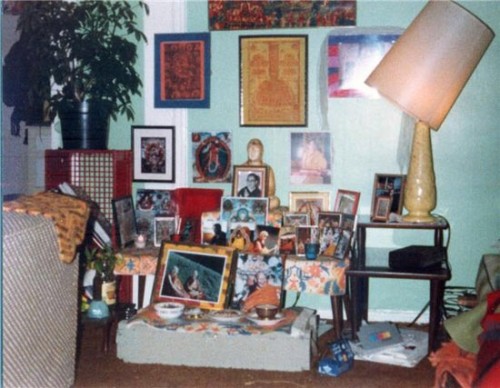 Finally Rinpoche sent me this picture and said "This is my shrine inside Fenmore apts back in 1983. I guess I was around 18." Lovely warm picture of Rinpoche's altar. Rinpoche couldn't afford fancy things and Buddha statues were hard to come by. The only Buddha statue here was chanced upon in a junk store that Rinpoche purchase for $5. He brought it back, washed it and placed the Buddha on his altar.
At the end, Rinpoche asked me what I thought of all the places I have seen. I told him that I enjoyed the tour very much and felt surreal to see it in real life. Before this, I have heard so much from Rinpoche about these places and I was there on the very same spot. What I realized was that even though Rinpoche lived in what I would call the deepest end of Samsara – Sunset, Santa Monica, Hollywood!, (Need I say more?) but spirituality was blossoming in Rinpoche at such a young age when most youths would just be lost in distractions and fun especially in a place like LA. On the other hand, Rinpoche's devotion to Kyabje Zong Rinpoche was just incredibly deep despite having been with him for only 6 months. Kyabje Zong Rinpoche was touring America at that time and he taught in TDL for that duration. And yet, Rinpoche was determined to fulfil his promise to become a monk. That kind of loyalty and devotion is extremely rare and inspirational.