15 Jul
I came across this little writeup by Frederick Law, a friend and fellow Kecharian on Facebook and I must say that it is pretty sound in his logic and relatively comprehensive. I share similar sentiments about this whole issue and I thought I share what this fellow Kecharian has to say about Rinpoche, lineage lamas and Dorje Shugden. I took the liberty to do some light editing on the writing…
---
People had been calling Tsem Rinpoche a fake Rinpoche, a devil worshipper just because of Rinpoche's practice of Dorje Shugden, which Rinpoche has been upholding ever since the practice was given to him by Kyabje Zong Rinpoche. It baffles me that the anti-Dorje Shugden people claiming to know so well about Rinpoche and Dorje Shugden practice (has decided to condemn.). But they do not, why?
Tsem Rinpoche kindness remain the same 20 years ago and even now. 
Because:
Firstly, they have never attended any teachings given by Rinpoche at Kechara,
Secondly, they never came to volunteer at any of the department conceptualized by Rinpoche.
Thirdly, they never even practice or recited any Dorje Shugden mantra, yet they created a projection that Dorje Shugden is a spirit just because of what they heard rumors from the Tibetan leadership.
The facts is that Dorje Shugden is not a spirit, he is the emanation of Manjushri, and Dorje Shugden reincarnation can be trace back from (High Lamas) Tulku Dragpa Gyaltsen, Panchen Sonam Drakpa, Duldzin Drakpa Gyaltsen and all the way to the great Mahasiddha Biwarpa. If Dorje Shugden was a spirit and the practice can harm practitioners, then it should have harmed His Holiness Dalai Lama since His Holiness first started the practice of Dorje Shugden from the 5th Dalai Lama onwards. Why should the ban be enforce now and claim (the practice) to be bad? What is the logical explanation of the ban?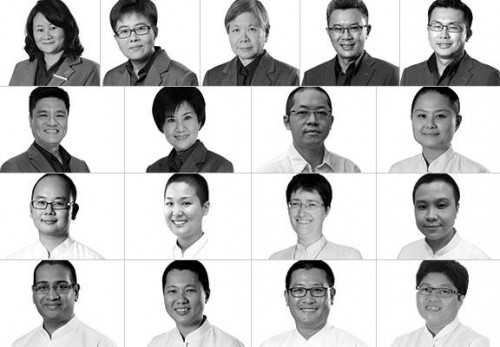 Kechara Pastor conceptualize by Tsem Rinpoche http://www.tsemrinpoche.com/tsem-tulku-rinpoche/kechara-13-depts/support-the-kechara-pastors.html
If the practice is bad (and breaks our refuge because he is a spirit and consequently a bad rebirth), then why are the High Lama such as Kyabje Trijang Rinpoche, Kyabje Pabongkha Rinpoche, Kyabje Zong Rinpoche, Domo Geshe Rinpoche and many other Dorje Shugden Lamas able to reincarnate back in this lifetime? It is evident that what ever the accusation on Dorje Shugden practice is false and fake.
As a student of Tsem Rinpoche who had receive the kindness of Rinpoche on many level, especially teaching and advice on my spiritual journey, I would say Rinpoche kindness and compassion is genuine, and personally I see with my own eyes the care Rinpoche gave to everyone he meets. Rinpoche's teachings has benefitted countless people around the world before and after he came out as Dorje Shugden practitioner. Was there a difference of the blessing and benefit one received from Rinpoche's teachings before and after? Certainly not!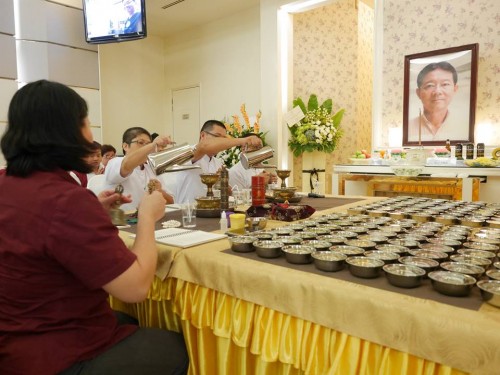 Kechara Pastor conducting bereavement prayer for the dearly departed.
One can see how practitioners of Dorje Shugden had benefitted from relying on this Great Dharma Protector and how Dorje Shugden Practice had helped them on a spiritual level to be caring, compassionate and tolerance and peaceful as opposed (to what was said) by the anti-DS people. There is the Kechara Pastor which was conceptualize by Tsem Rinpoche to preserve the Dharma and to give laypeople an opportunity to commit to benefiting others. Kechara Pastors teaches Dharma, perform blessing for the sick and old, performing last rites and bereavement ritual services and much more.
We have Kechara Soup Kitchen which Tsem Rinpoche created to feed the poor and homeless in Malaysia. This department had benefitted thousands of the poor and homeless in KL, Johor, Pulau Pinang and Kuantan, KSK alone had hundreds of volunteer who gather together to feed the poor. There is also an aviary built to rescue birds from pet store, (especially) those which are sick and in bad condition, to give them a better environment to live in. Then we have Kechara Puja House which conducts various Puja to help the public in helping them on various issue such as health, finances and even spirit disturbances.
This is what we practice in Kechara, kindness, compasion and caring.
All of these are created by Tsem Rinpoche to help lay people to be connected spiritually, to collect merits, to understand Dharma, to practice mind transformation, and to practice compassion and kindness to benefit others. This is what we are practicing, the essence of Dharma practice, and yet Dorje Shugden is just a minor practice that assists us in clearing away obstacles that hinder our practice, not as what the anti-Dorje Shugden people claim to be.
Who Tsem Rinpoche was when he was in California, or in Gaden Monastery, or even as the Spiritual Advisor of Kechara, He is still the same Tsem Rinpoche who look out for others, be it human or even animals, the same quality of Guru Devotion, love and care never wavered to this day. He is still the same Tsem Rinpoche before, and even after he came out as a Dorje Shugden practitioner, which many people had been benefitted directly or indirectly.
Links to the compassion of Tsem Rinpoche:
http://www.tsemrinpoche.com/tsem-tulku-rinpoche/students-friends/a-blessing-for-liews-father.html
http://www.tsemrinpoche.com/tsem-tulku-rinpoche/liaisons/seng-piows-grandmother-mdm-chin.html
http://www.tsemrinpoche.com/tsem-tulku-rinpoche/students-friends/blessing-su-mings-grandmother.html
http://www.tsemrinpoche.com/tsem-tulku-rinpoche/kechara-soup-kitchen-ksk/46417.html
Must Read:
http://www.elenakhong.com/2015/07/10/tsem-rinpoche-came-out-as-a-dorje-shugden-practitioner/