25 Sep
During the month of August, I found myself travelling to America for several spiritual appointments on the east coast. What was not planned was this road trip to Tsem Rinpoche's stomping ground, Howell, New Jersey. I had taken plenty of pictures so you guys can have a glimpse of Rinpoche's American upbringing. The cool thing was that we had not planned it and on the day that we were free, we came so close to Howell that we detoured to seek out these places and get a 'feel' of Rinpoche. By the way, I was with Beng Kooi and Karen on this little road trip…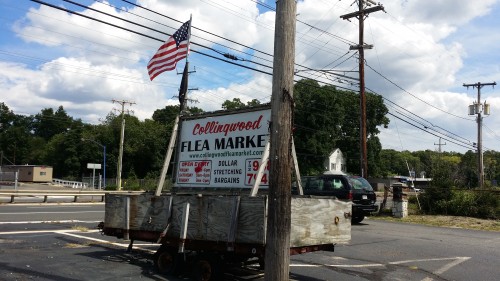 We were having breakfast at a nearby diner when we drove past Collingwood flea market. It was Karen who noticed the flea market and screamed! She remembers it from pictures she had seen. It was a Thursday and so, it was closed but I took these pictures anyway. This flea market was where Rinpoche's mom would take Rinpoche when we was very young to go shopping.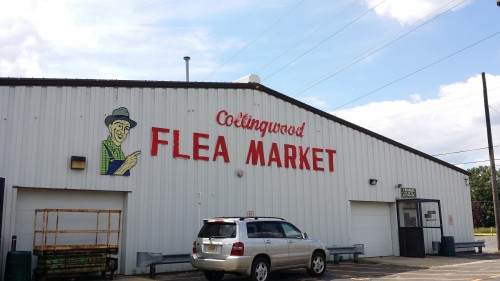 It was at Collingwood that Rinpoche's stepmom bought Rinpoche's first pet dog, Princey. He loved Princey very much as he was a very cute dog. Unfortunately, the dog was run over by a car because he loved to chase cars and the houses in New Jersey had no fence.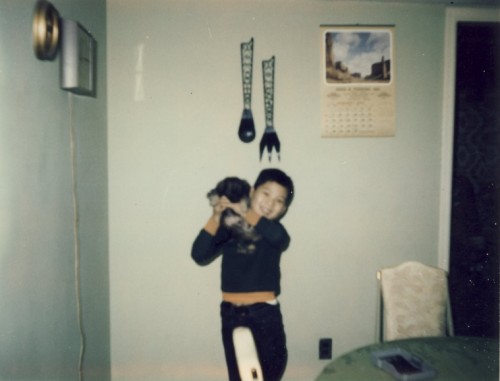 This is an old picture of young Tsem Rinpoche and Princey, his pet dog. You can tell that he loved Princey deeply and great saddened when he died.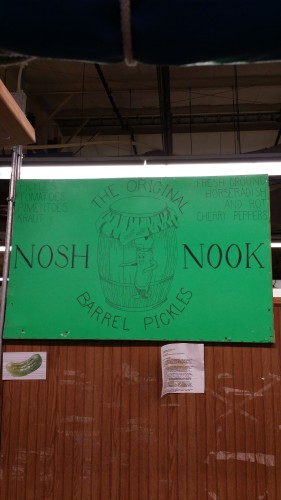 We came back the next day with Su Ming, Beng Kooi and Karen. It was a Friday and so, the market was opened and we could take a look. Right in the middle of Collingwood fleamarket was this Russian pickle stall called Nosh Nook that sold pickles that were submerged in huge barrels. Rinpoche said Russian pickles are one of the best and his absolute childhood favourite. The Russians ate a lot of pickles because Russian winters were long, desolate and almost impossible to grow  fresh vegetables in the old days.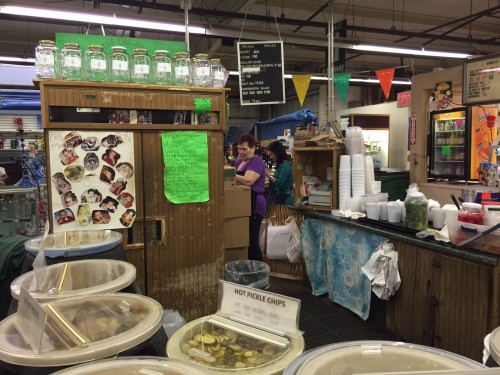 Rinpoche remembers this stall was owned by an old Russian lady and her daughter. They had a variety of pickles but Rinpoche particularly likes the sweet and crunchy pickle that was not completely fermented. Fully fermented pickles are sour and not as crunchy.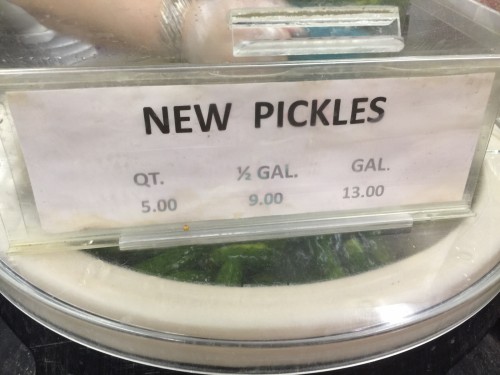 It turns out to be this yummy pickle. I was given a pickle to try and I took a bite and it was crunchy and savoury sweet.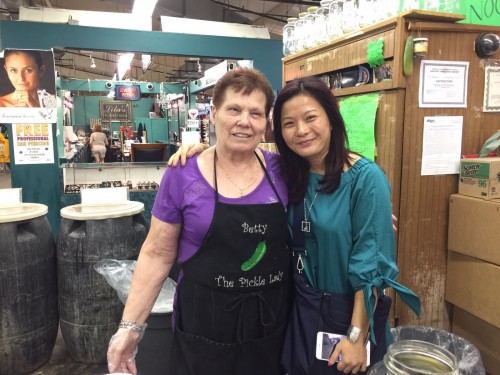 A sweet picture of Betty, the pickle lady and Su Ming She's the daughter of the old Russian lady that used to own the stall.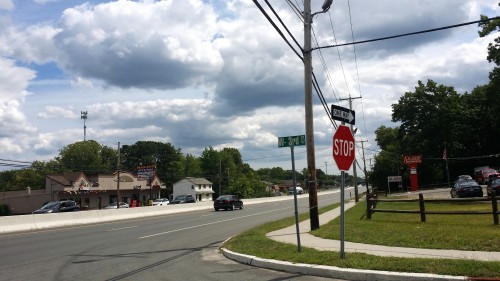 Next stop was this famous West 3rd Street. It is famous if you follow Rinpoche's blog and teachings and that's because Rinpoche would from time to time recollect memories of his childhood. All this transpired happened here on this ordinary Jersey street that Rinpoche grew up in. It was surreal coming here and although I have never been here before but I have heard about it in so many stories.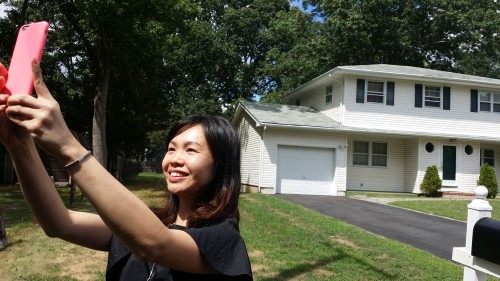 Naturally being Asian, we had to take lots of pictures and selfies in front of Rinpoche's family home.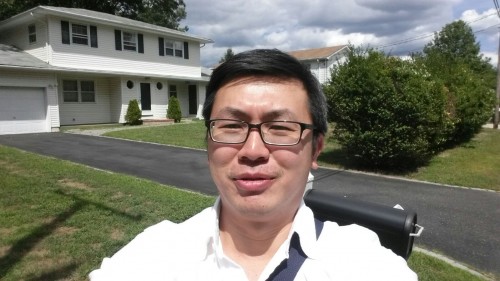 I had to take one too with my fat face… Hehe! Rinpoche's family home is extremely well taken cared of. It almost look brand new. Rinpoche had so many stories told of this house, his foster parents and his early upbringing. The gardening work he had to do in the huge backyard and the sheer amount of housework as a kid.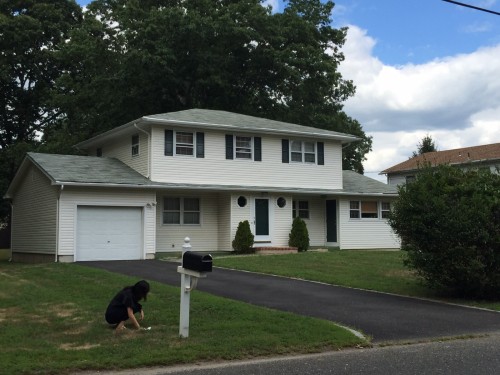 It's incredible how none of the obstacles he received as a kid deter him from his spirituality. It was clear that spirituality was not something instilled in his childhood but something that was inside of him from another lifetime. A testament of this conclusion is the fact that his foster parents were totally against him pursuing his aspiration to be a monk and yet somehow, that never stopped him.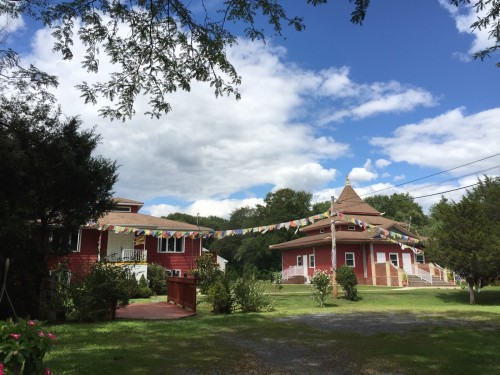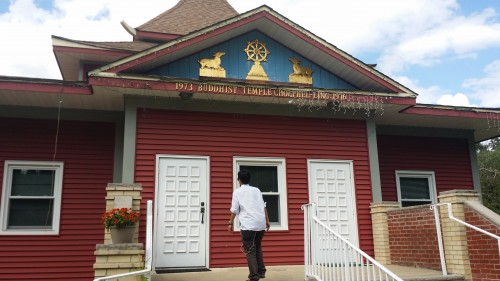 Just a few streets away from Rinpoche's home is this beautiful Kalmyk temple of Nitsan or Gaden Chopheling. Rinpoche  remembers fondly of coming to this temple in his earlier years. He told us to look out for a particular Manjushri thangka that was very old and used to hang there when he visited the temple in his youth.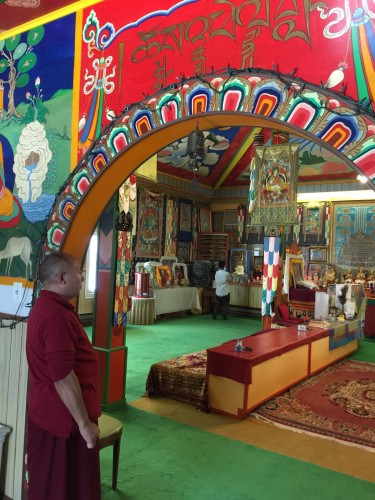 We knocked on the door and this monk showed us into the Gompa or the prayer hall. Naturally, the arched doorway felt like a doorway into another world. The temple shrine was done up in traditional Mongolian/Tibetan style with colorful brocades, statues, thangkas and tsa-tsas.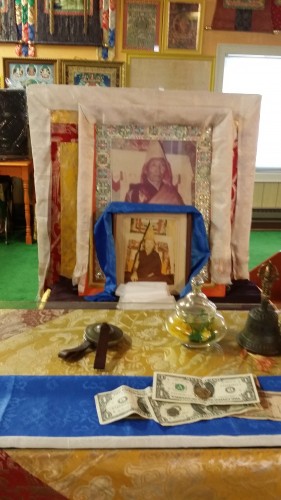 The Gompa had a throne to Telo Rinpoche, Rinpoche's cousin. The little picture in front with the blue khata(ceremonial scarf) wrapped around it is Telo Rinpoche in his youth. The picture of the older lama behind that is his previous life, a very High Lama of Kalmykia.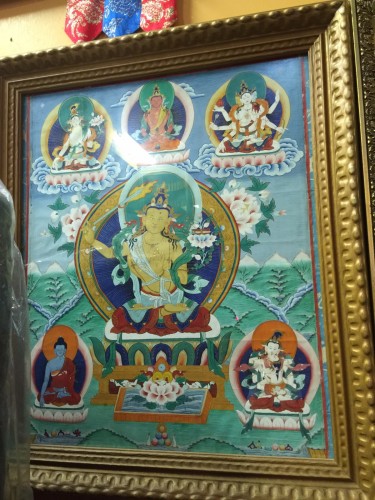 After looking around, we found the old thangka of Manjushri. Rinpoche said he used to sit in front of this thangka and stare at it for hours while meditating and reciting his mantra. Gen Yonten Gyatso, the resident monk at that time was the one who showed him this thangka and explained the purpose and benefits of Manjushri. Upon hearing, Rinpoche developed a lifelong faith in Manjushri.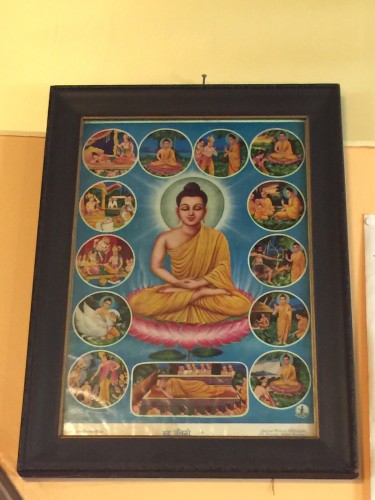 Besides Manjushri, we saw this print of the Buddha's life in the temple amongst other precious objects. Rinpoche had showed us this picture a couple of months back that he found on the net. He told us that his family shrine used to have this exact picture in a black frame. Rinpoche told us that seeing this picture brought back a flood of childhood memories.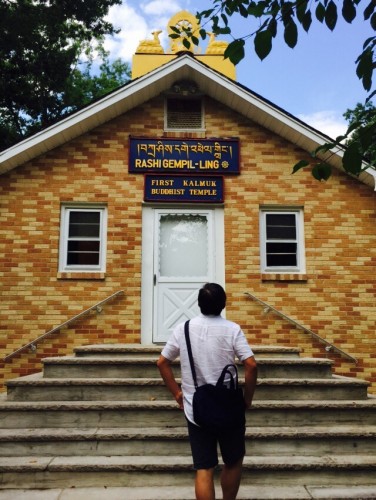 After Nitsan temple, we went to Rashi Gempil Ling temple not too far away. This is the historic first Kalmyk temple in this area and one of the main places where Tibetan Buddhism first entered into North America. This is also the monastery of Sera-mey Kensur Lobsang Tharchin Rinpoche, a great student of Kyabje Pabongka Rinpoche himself.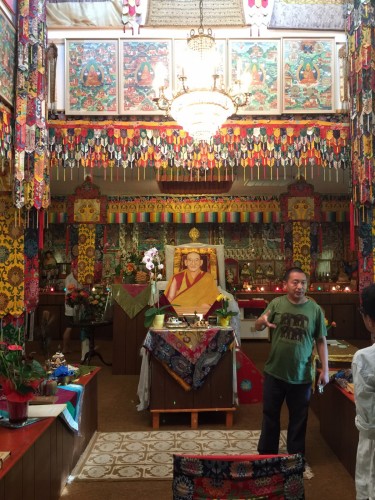 This the main prayer hall that features prominently a throne to Kensur Rinpoche with a lifesized cardboard cutout of the lama. This lama is Rinpoche's first Guru, who gave refuge vows and some of the most fundamental teachings that Rinpoche cherishes to this day including the sacred Vajrayogini initiation and commentary.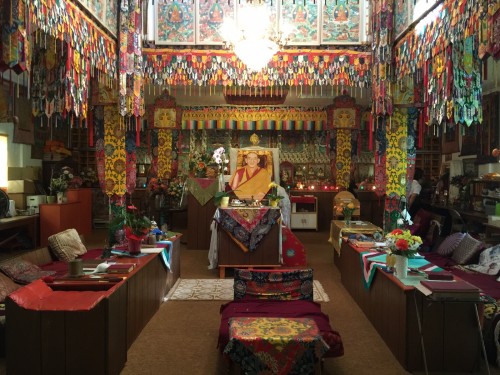 The framed thangkas above the lama's throne are antique biographical thangkas of Lama Tsongkhapa that are believed to be painted during the era of the 13th Dalai Lama. It is the center's most prized possession.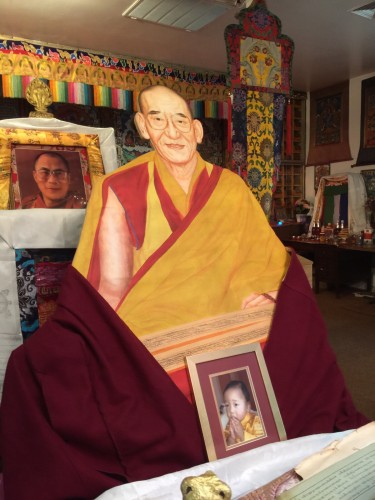 This little framed picture of a kid in front is Kensur Rinpoche's current incarnation. To me, this is a powerful visual testament to having a controlled rebirth in which we get connected back to our spiritual lineage and practices.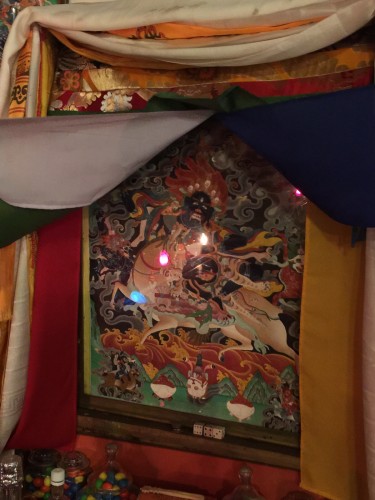 In Rashi Gempel Ling, rinpoche told us to look out to this sacred thangka of Pelden Lhamo. In this temple, Rinpoche would somehow always sit in front of this image of Pelden Lhamo as a kid and when Kensur Rinpoche saw him doing that, he would scowl disapprovingly and ask the young rinpoche to sit in front of the Buddha instead. Rinpoche would obey his teacher and when his teacher was not around, he would return to this powerful image of Pelden Lhamo.
For me, I first saw this print of Pelden Lhamo in rinpoche's house many years ago. At that time, I had no idea who she was but every time I gaze at her, I am struck by a sense of familiarity. It almost felt like I had seen her in my childhood and I have a vague memory of my aunt worshipping her. The funny thing was that none of my relatives were Tibetan Buddhist. Whatever it was, this thangka of Pelden Lhamo has become a favourite of mine.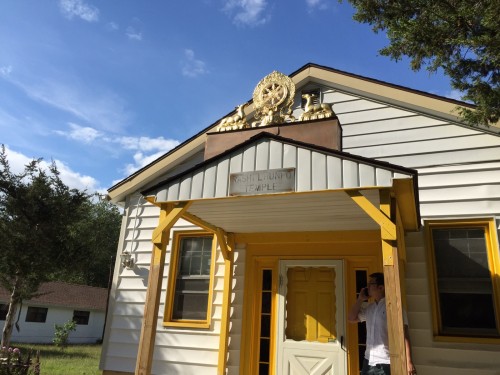 The third Kalmyk temple we went to was Olna Gazur or Tashi Lhumpo. Rinpoche told us that there was an old monk there by the name of Tenzin who knows Rinpoche. True enough, there was a note on the entrance of the temple stating that those who wish to enter the temple can call Manya (Venerable) Tenzin to open the doors.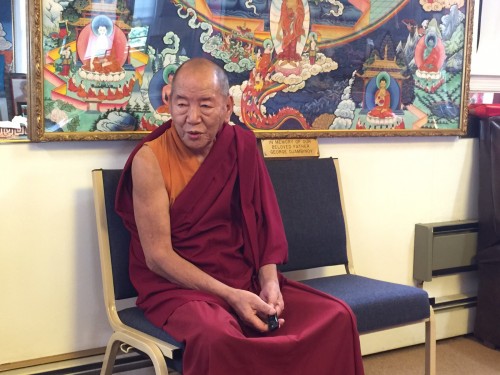 This is Manya Tenzin and he invited us to sit down to talk. He told us of his memories of an inquisitive young Rinpoche. He said Rinpoche was special and unlike other children who preferred to play outside. Rinpoche as a young kid would always come into the temple and pestered him with a million questions, not all of which he could answer because they were only meant for tantric initiates.
Manya Tenzin is pointing to a huge beautiful thangka of a pure realm of the western paradise Sukhavati (Amitabha Buddha is in the center surrounded by many Bodhisattvas). He explained that the thangka was commission by the family of a deceased Kalmyk as a means to collect merit for the deceased. At this point, he began to lament the fact that the younger generation of Kalmyks for their lack of interest in the Dharma. This was also when he started to explain a little bit of the Dharma to us.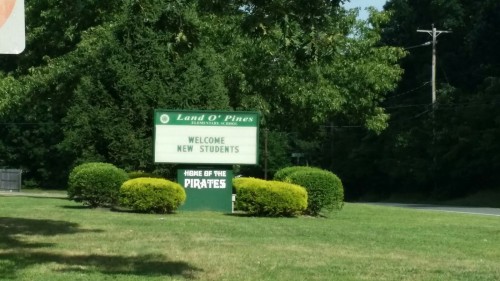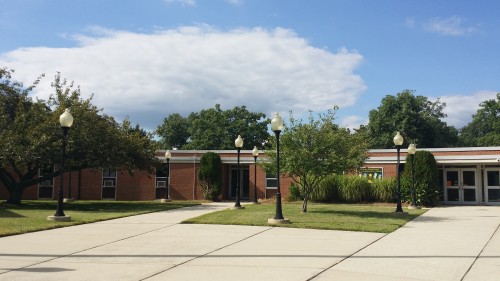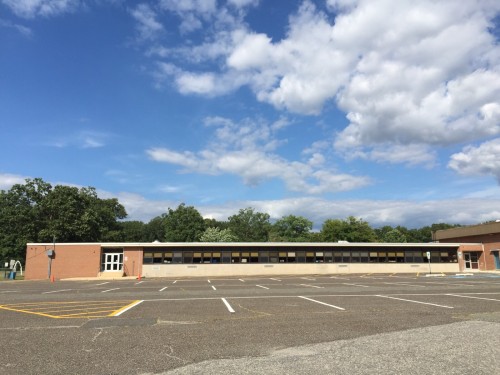 Rinpoche went to school at Land O Pines and we drove past to take a look. It still looks good and a bit deserted. Must have been a school holiday. I recall a story of Rinpoche's art teacher Mrs Gerber which I think was from Land O Pines who understood Rinpoche's little drawings of a wandering yogi who meditated in a cave.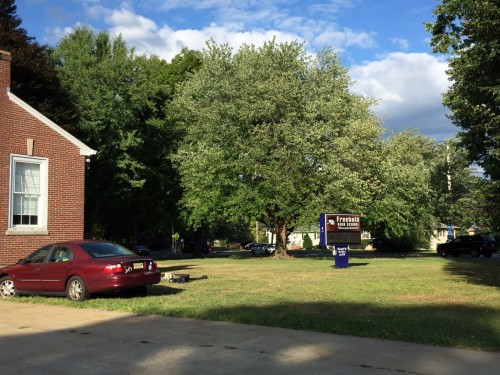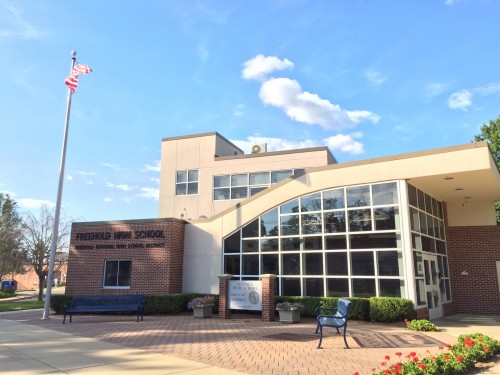 Then, we drove pass Freehold High School where Rinpoche studied with his best friend Mark Reed. I do recall Rinpoche telling us that he won an art contest in Freehold in which he had painted a blue Vajradhara. The large painting was hung outside the school's office for many weeks and many people saw and admired the artwork.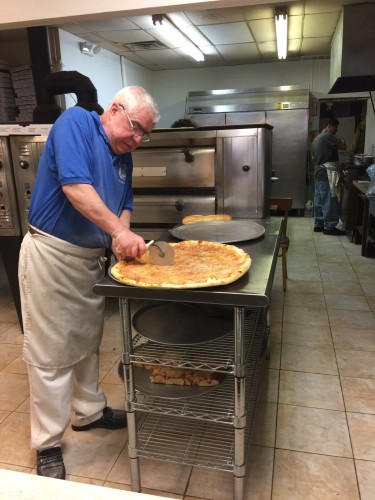 For lunch, Rinpoche told us we had to check out the unassuming Lino's Pizza. He raved that it was the best pizza in the world. Naturally, we had the yummy mushroom and cheese slices and it was really good especially with garlic powder sprinkled abundantly.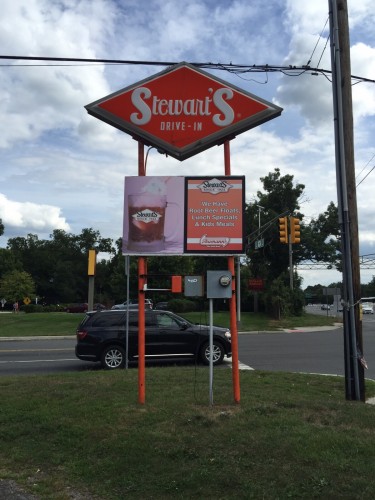 For dessert and a nice end to the pilgrimage, we had to have root beer from Stewarts' that Rinpoche had in his childhood. I thought it was not bad while Karen said "This is better that A&W root beer." Well folks, I am glad you scrolled all the way down to read and absorb the sights and memories of Rinpoche's Jerseytown.