1 Mar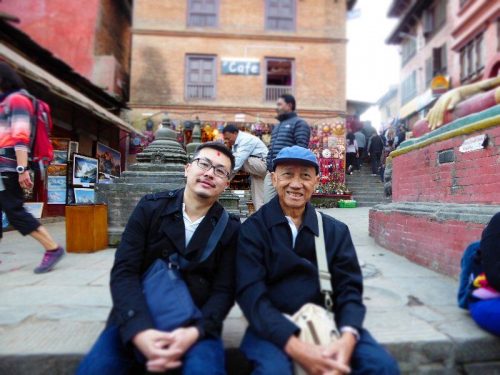 Me and my dad in Nepal on a pilgrimage in 2016
My father passed away several weeks ago and I was fortunate because I had the opportunity to be by his side for several weeks prior to his passing. My father had jaundice due to advance stage of cancer and the doctors basically said it was time to go home. In the weeks prior to his passing, Rinpoche called me into his room one day and he gave some advice pertaining to my dad.
At that time, Rinpoche called me to tell me to go back home to be with my father so that I would accompany him on his last days here on earth. Rinpoche then proceed to tell me that I am very lucky because I am in the unique position to manipulate his passing because it is possible for me to lead him to a better rebirth. Before meeting rinpoche that day, he told me to do a short Dorje Shugden puja every single day in the presence of my father. While I was with Rinpoche, he began to explain a visualisation technique to be done while I was doing the Dorje Shugden puja in order to 'manipulate his passing'.
That is to visualize Dorje Shugden on the crown of my dad's head without the lotus underneath. Then, Rinpoche said that since my dad has done some Dharma work and done it well, I could do the following visualization. Although my dad did not do a lot of Dharma work but whatever he did, he did it wholeheartedly and consistently. So, the little that he did became a lot in terms of merits. So, I am to visualize all the Dharma work that he did throughout his life and visualize it materialize in the form of the 8 Auspicious Signs and 7 Royal Emblems and have them rain down lightly around Dorje Shugden on my dad's head as an offering. Rinpoche said this is likened to placing the gold coin on the deceased (Western belief) so he can buy his passage into the afterlife.
Rinpoche then stressed that it is very important to visualize Dorje Shugden having the appearance and energy of being ever-ready to take my dad to a good rebirth. Rinpoche also said that when my dad is at his last breath, it would be best to stroke his head and preferably not touch anywhere else (although it is alright to hold his hand if he needs comforting). This is to stimulate the mind to leave through the head or the upper body as that would indicate a higher rebirth. Leaving the body from the lower regions would indicate a negative rebirth. Hence, Dorje Shugden is visualized to resting on the crown of the head to stimulate a higher rebirth.
Rinpoche said this visualization can be done for anyone who is terminally ill and if the person's personal preference, affinity or practice is another deity, it is perfectly alright to replace it with that deity. However, for the best results, one should do this visualization ourselves but we can also do it on behalf of our loved ones as I did for my father. So, the deity could be Tara, Manjushri, Kuan Yin and so forth. However, for my dad, his deity was definitely Dorje Shugden and for those who don't have a preference or practice, Dorje Shugden would be the best practice for them. Furthermore, Rinpoche told me to light juniper incense every day to Dorje Shugden and gave me protection string blessed by Dorje Shugden to be placed under my dad. Rinpoche also had arranged for a large picture of Dorje Shugden to be hung in front of my dad and there was offering of faery lights and a platter of fruits every day to generate merits for Dorje Shugden's assistance.
Finally, Rinpoche gave me another protection string from Dorje Shugden to be burnt at the moment my dad passes away and rinpoche said when we burn blessed rice or in this case, a blessed string, it is strong signal to Dorje Shugden to come to our assistance. From then on, I did the puja every single day and a week or so later, Rinpoche told me he had a premonition that my father would be reborn in a place where there are maroon-robed monks and monasteries. Rinpoche thinks that he would be reborn in the Tibetan region of China. My father lived for a few weeks thereafter and passed away peacefully in his sleep. I performed the last Dorje Shugden puja and burnt the string- asking Dorje Shugden to take my dad to his next life safely.
I miss him and wish I had more time or spent more time with him but I am glad that he was able to go to a good place. That he would be alright and hence, I am sharing this post so others would be able to benefit their loved ones on their final journey.