19 Jun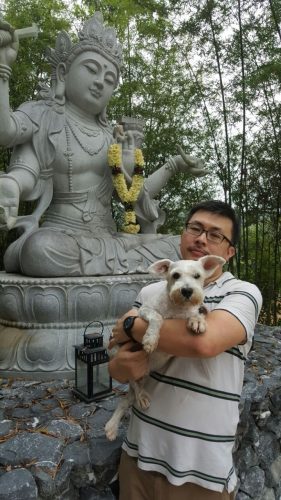 It's good to bring your pets and older people to circumambulate around Buddha statues and stupas to collect merit. It will plant Dharma imprints and merits for their future rebirths.
Every morning when it is cool around 7.30am, I would take a walk while carrying my mala around Kechara Forest Retreat where I work. I begin by reciting Manjushri mantras as I climb all the way to the top of Manjushri hill where a rocky shrine to the majestic 4-armed Manjushri Nama Samgiti. Then I circumambulate clockwise 3 time around Manjushri while reciting his long mantra. Then on the final round, I dedicate while touching my mala to his arrow, which happened to be within reach.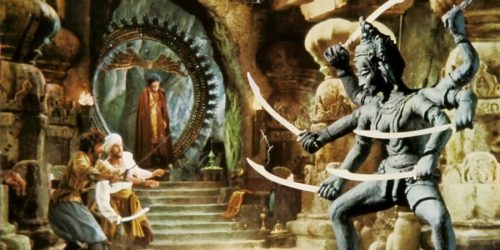 This scene of the Kali statue in the Golden Voyages of Sinbad reminds me of Loma Gyonma for some reason
On my way downhill, I switch to reciting Tara's mantra as I make my way towards her lush shrine downhill near the entrance into Tara walk. I do 3 rounds around Tara and dedicate by touching my mala to her lotus feet. Then, I switch to Loma Gyonma's mantra as I walk over the 'crusher run', the loose-stone path towards the splendid Loma Gyonma or Pita Parnasavari, which happens to be her more exotic Sanskrit name. For some reason, she reminds me of the dancing Kali in the Sinbad movie. Nevertheless, I walk 3 rounds and at the end of the last round, toss my mala so its hooked onto her noose as I dedicate. I know I am a little quirky as I hope to glean some extra blessings from doing this.
On my way back to Wisdom Hall, I would recite Migtsema and then I walk three rounds around Lama Tsongkhapa w and dedicate at the end with folded hands and then proceed to Vajrayogini's stupa. I recite Rinpoche's mantra as I circumambulate the stupa 3 times and dedicate at the end of the last round. There's a hedge planted around the stupa so I am unable to touch my mala on the stupa itself so I did it with folded hands as I walk backwards and finish the recitation near the gate of the stupa compound.
My last stop was at the Buddha Nageshvaraja statue in which I recite Vajrapani's mantra because I have not memorised his mantra. I walk 3 rounds around the Buddha and on the last, I place my mala on top of the lotus where his robes area while reciting the dedication verses. As I return to Dukkar Apartments, I recite the General Dedication verses and rejoiced a little that I collect some merits for the day.
I thought I recount my daily devotional rounds here to encourage those who visit Kechara Forest Retreat to do the same or even more (like cleaning the shrines, prostrations and making offerings) in order to connect with the sacred energies of the Buddhas and the land. I know some of you may be thinking that I missed Dream Manjushri at the pond, Manjushri Nagaraksa on top of Medicine Buddha Hill and also Gyenze at his chapel right on the entrance. Yes, I did skip those stops in order to save time and would complete the circuit if I had more time on my hands. If you have time, stop by all of the shrines and bring candles to make a light offerings as well. Light offerings creates the cause for us to gain wisdom. Remember that.