24 Mar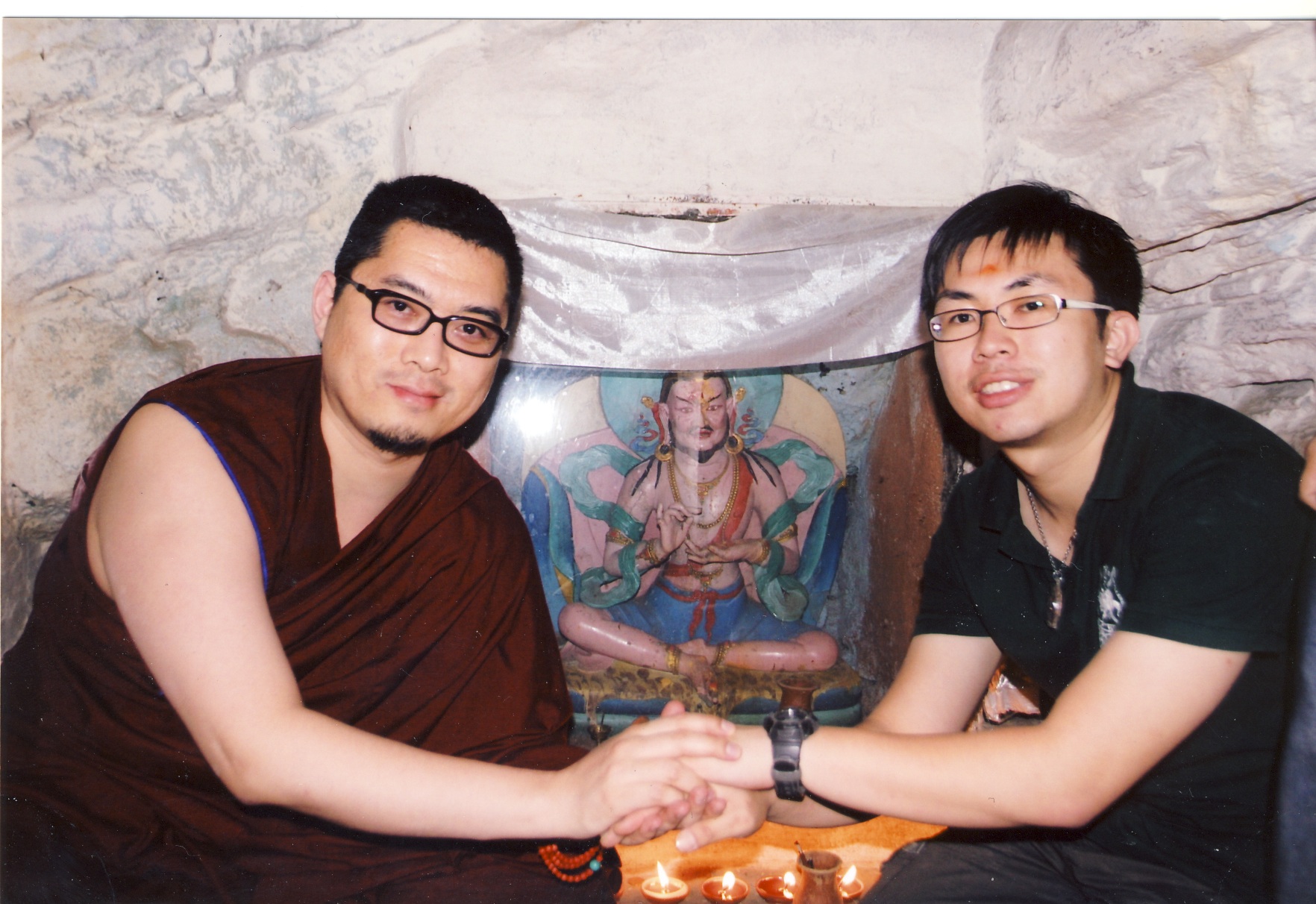 A warm photo of Rinpoche and myself at Naropa's cave in Nepal 2008
 
Over the years, I had so many amazing moments with Rinpoche that is really too much to write everything in just one blog post. It has been about seven years of knowing Rinpoche. That's right, seven years. I knew Rinpoche even before Kechara House at Sunwaymas was built. Within that time-frame, Rinpoche had accomplished so many incredible things with Kechara House and I was fortunate enough to have stuck along and have since become a contributing member. It's amazing how everything came together since I got to know Rinpoche. When I first met him, I had no idea who he was or what he was doing… 
I wrote in chapter 3 of There's No Way But Up –
"A self-professed psychic once told me that there would be three people who would have the potential to change the course of my life. He told me that Jon was one of them (this was after I had told him about Jon) and then he told me that he was the second person (I rolled my eyes at that remark). Then, he said there would be a third person that I would meet very soon. He added that this person is a powerful person. That was all he said. I know this sounds dramatic but that was really how it happened!
I had almost forgotten that Mr. Powerful was going to drop into my life until I met Kai at the gym. The dream I had after that made me wonder if it was coming true but I eventually shrugged it off as mere coincidence. After all, I barely knew Kai and I didn't see how a person I met at the gym could change my life. However, Kai asked me out for dinner with his trainer one day and this gave me an opportunity to get to know him better. I thoroughly enjoyed the dinner, which was made all the more lively with his wit and Americanised sense of humour. I could see how he could have a huge effect on others and he also seemed to know quite a lot of people.
I guess I must have had good table manners because after the first dinner, from time to time, he would invite me to more 'din dins'. At those dinners, I got to meet his other friends and everyone seemed enamoured with him. At that time, he already knew that I was bored with my job at Canon and so he would often ask me out after work or whenever I was free. He seemed extremely free himself and all I ever saw him doing was working out at the gym but he was dead serious about getting fit for some reason. In my case, I went to the gym because I wanted to shed my Australian potbelly.
One afternoon, he asked me out to lunch at a downtown mall. It was a boring day of running around town for my job, so I decided to call it a day and headed for the mall. I met up with Kai and was introduced to Chia, Ruby and Mary. They seemed to know him very well and were engaged in a fairly intimate conversation. I listened and although I didn't know what was going on or whom they were talking about, I still felt involved in their conversation. Just like always, Kai was the star attraction as he did most of the talking and teasing but nobody was unhappy, bored or left out." 
That was my initial impression of Rinpoche and I can't believe that premonition/dream that I had really did come true. The amazing thing was that he didn't change my life for me but he made a lot of effort to get me to do it. He insisted that I should write and he told me again and again that it would make a difference for me. Unfortunately, I was skeptical for many years and wasted a lot of time. I won't be able to reclaim the lost time but I do hope that my story (There's No Way But Up) will help people to gain more trust and understanding of Rinpoche so that they don't have to go through the same thing.
P/S : Rinpoche has a spectacular blog where he writes prolifically of issues and events that are of interest and scope of Kechara House.
Click here to check our Rinpoche's blog –> http://blog.tsemtulku.com