29 Nov
Finally! The day that all Kecharians have been eagerly awaiting!
The inauguration of the new Kechara House Gompa has finally come! Well, the inauguration took place last night. The inauguration took just one evening but it was really a culmination of many months of hard work and planning. Therefore, the opening of the New KH Gompa defined 2010 as the year, Kechara House grew another level. 
Enough of the big words and hype, the event was pretty evident on Kechara's street because a humongous marquee was set up. It was no ordinary tent but a fancy with one with air-conditioning, sumptuous hors d'oeuvres (small servings of savoury food for those of you who are exceptionally cultured) from Kechara Oasis' (that means they are delicious, vegetarian and very kind to animals).  
The purpose of the marquee is for our members and guests to settle to conversations about Kechara and Rinpoche while being served with good food while awaiting Rinpoche to arrive. The new KH Gompa would only be opened once Rinpoche cuts the ribbon and offers a few words of benediction. 
Anyway, have any of you been a marquee that was air-conditioned? Well, I haven't and it was really quite a posh experience. I know I sound rather kampung (hill-billie) here but thats truth. There's always a first for everything.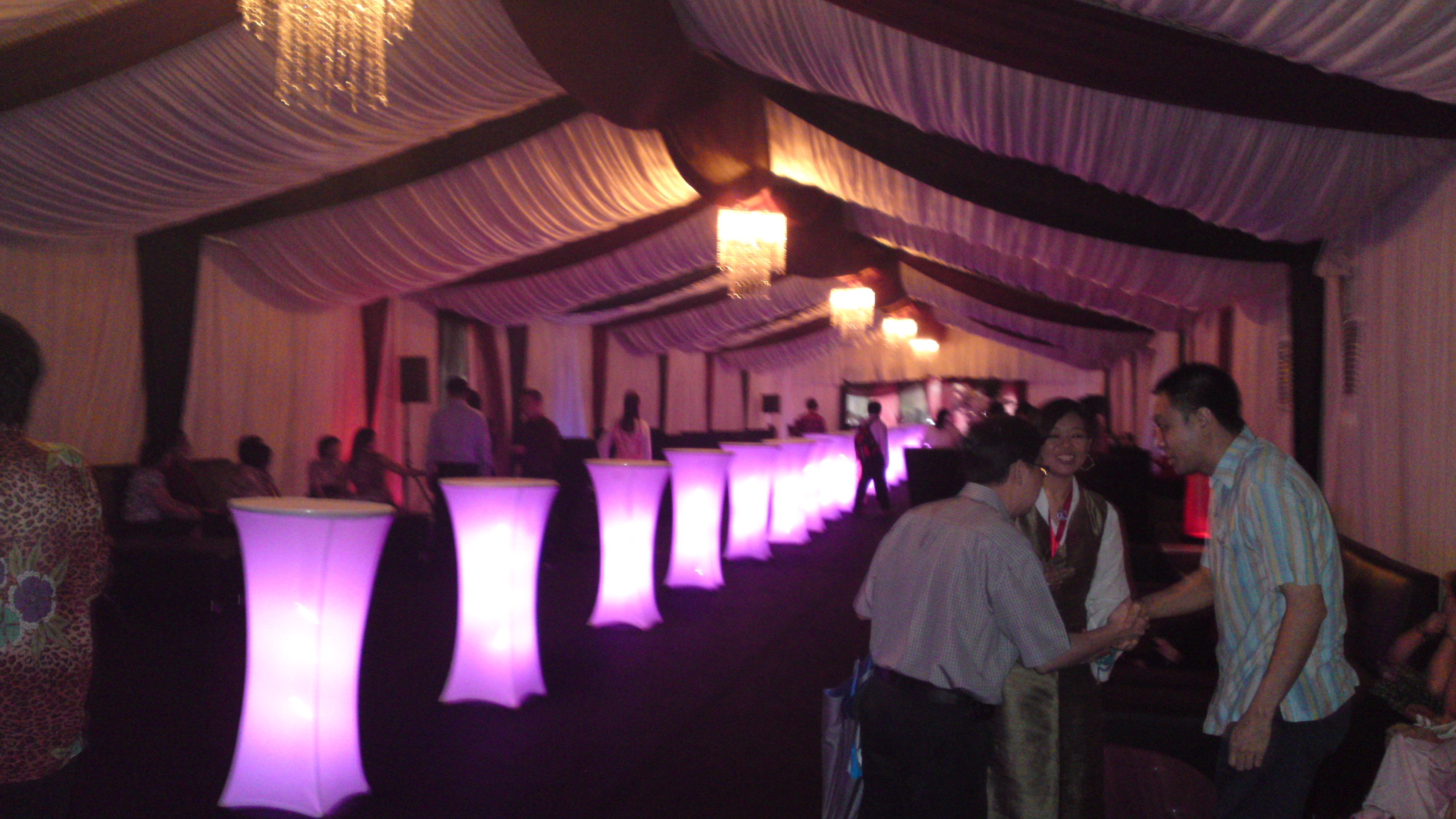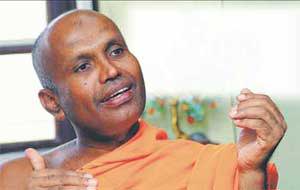 Check out the purple cocktail tables and the posh ambiance! Who would have thought this was going to be the opening of a Buddhist temple. That is typical Kechara-style for you! Well the food was great too… I heard. I didn't eat much because I was busy playing the host to a visiting Theravaden monk, Venerable B Sri Saranankara Nayaka Maha Thero (pictured here on the right).
I was busy sharing with him about Rinpoche and Kechara while the waiters were coming one-by-one and I wanted to take pictures of the food but dare not. I didn't want to give a bad impression of a Kechara glutton. (although some people might already have that impression of me.)
I realised Theravaden monks are trained to restrict expressions of emotion. Initially, I felt that I was boring him or he wasn't interested in what i had to say. However, he warmed up and later I found that was a trait of a Theravaden monk, which is quite different from Rinpoche's charismatic outburst of wit and humour.
Anyway, just before Rinpoche arrived, there were 3 performances and the first one was my favourite. It was the Vajrayogini dance by Margaret Lee and I must say, she sure did a fantastic rendition of the traditional sacred dance. The background music was a pre-recorded vocals by James Long that was hauntingly similar to the actual traditional chant. Check out these pictures of Margaret as Vajrayogini… Spectacular!
Photos of the performances are from Kok Yek Yee's facebook.
There were two other performances. The next one was the Migtsema Candle dance…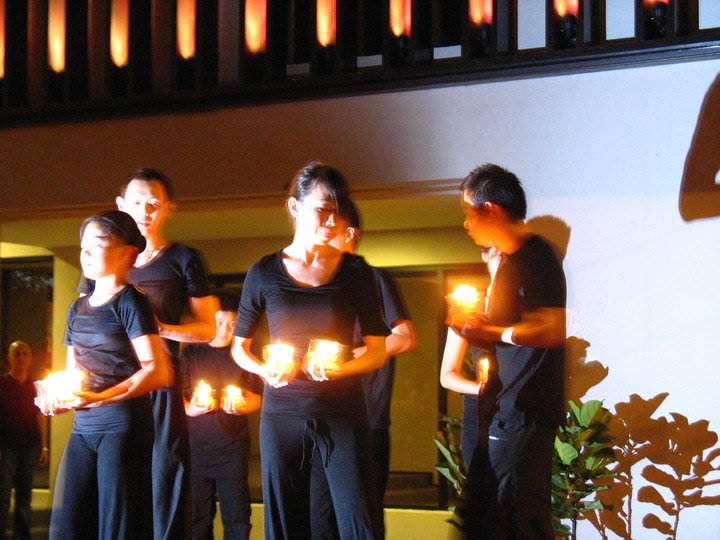 and a Tibetan folk dance… 
But the star attraction came after all the performances….
Rinpoche arrived in his complete monk robes and pandits hat! Looking grand, tall and majestic, he cut the ribbon, uttered a few words of benediction and entered Kechara House New Gompa.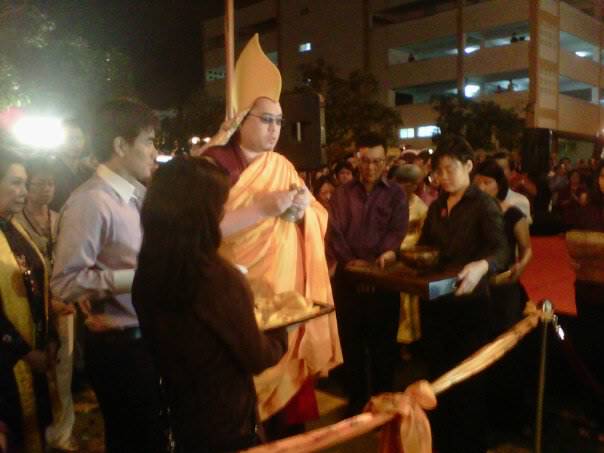 Photo from Khong Jean Ai's facebook 
At the Gompa, Rinpoche offered the mendel tensum (offering of a world mandala),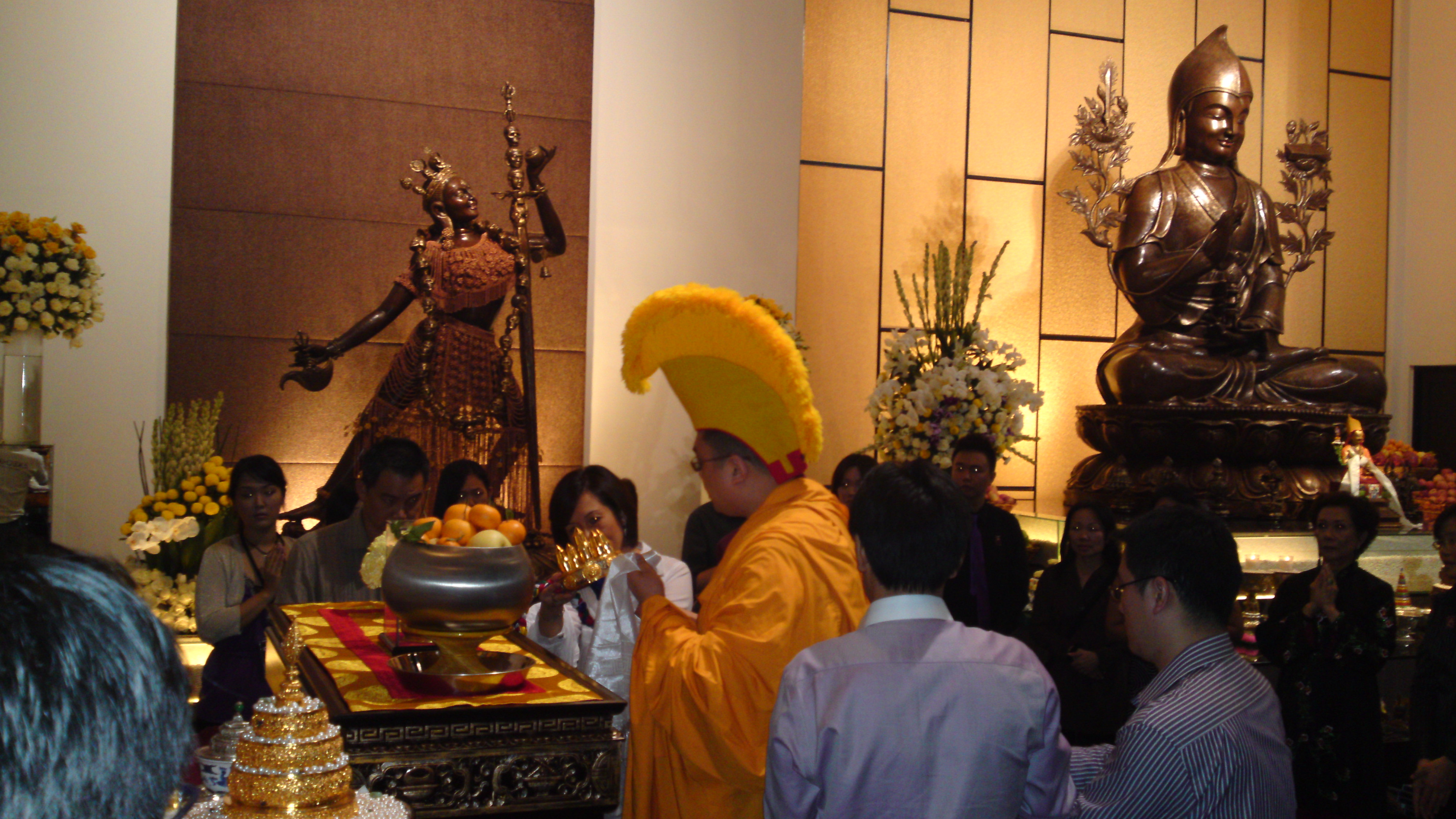 …a Buddha body…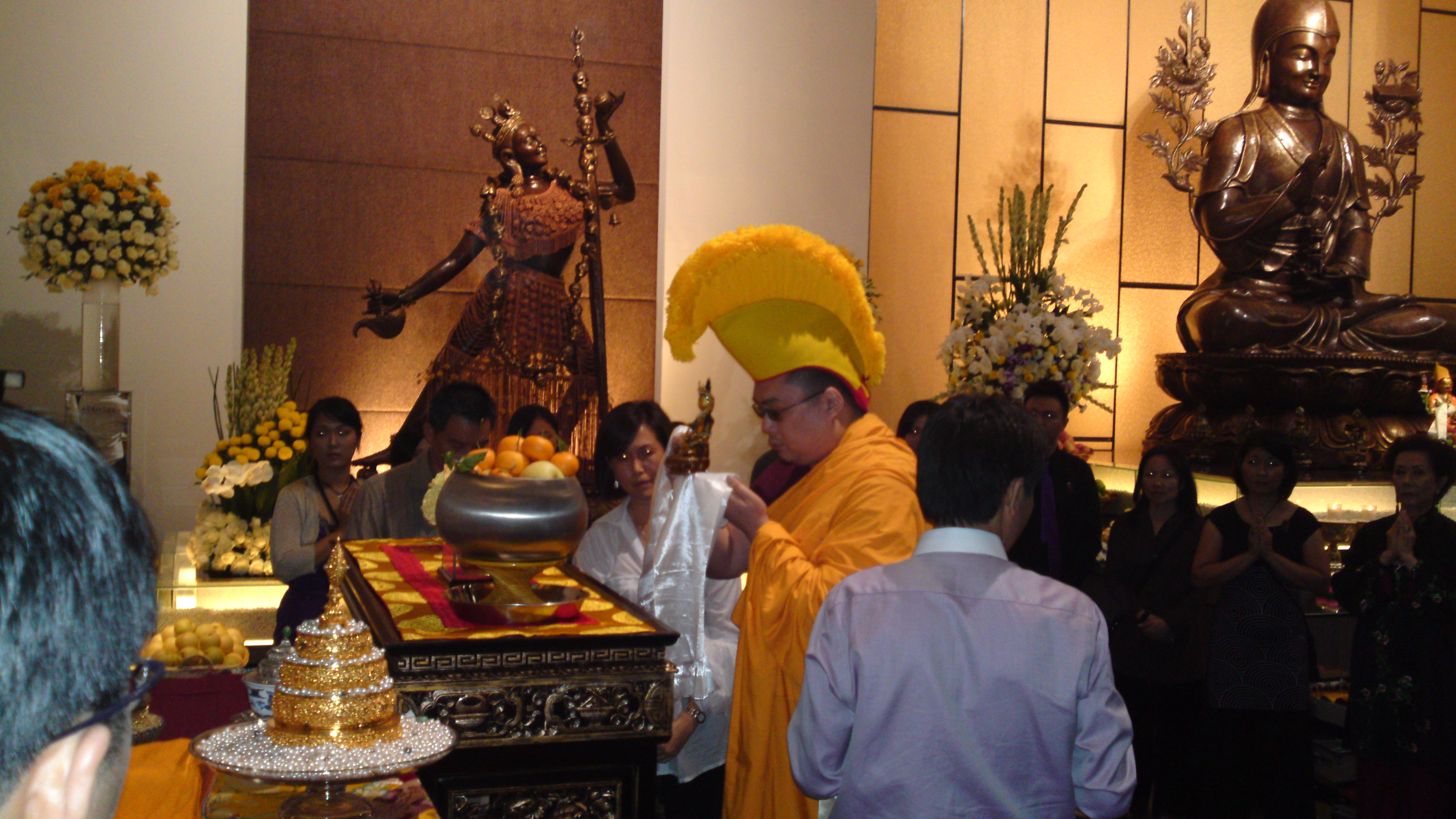 …Buddha speech….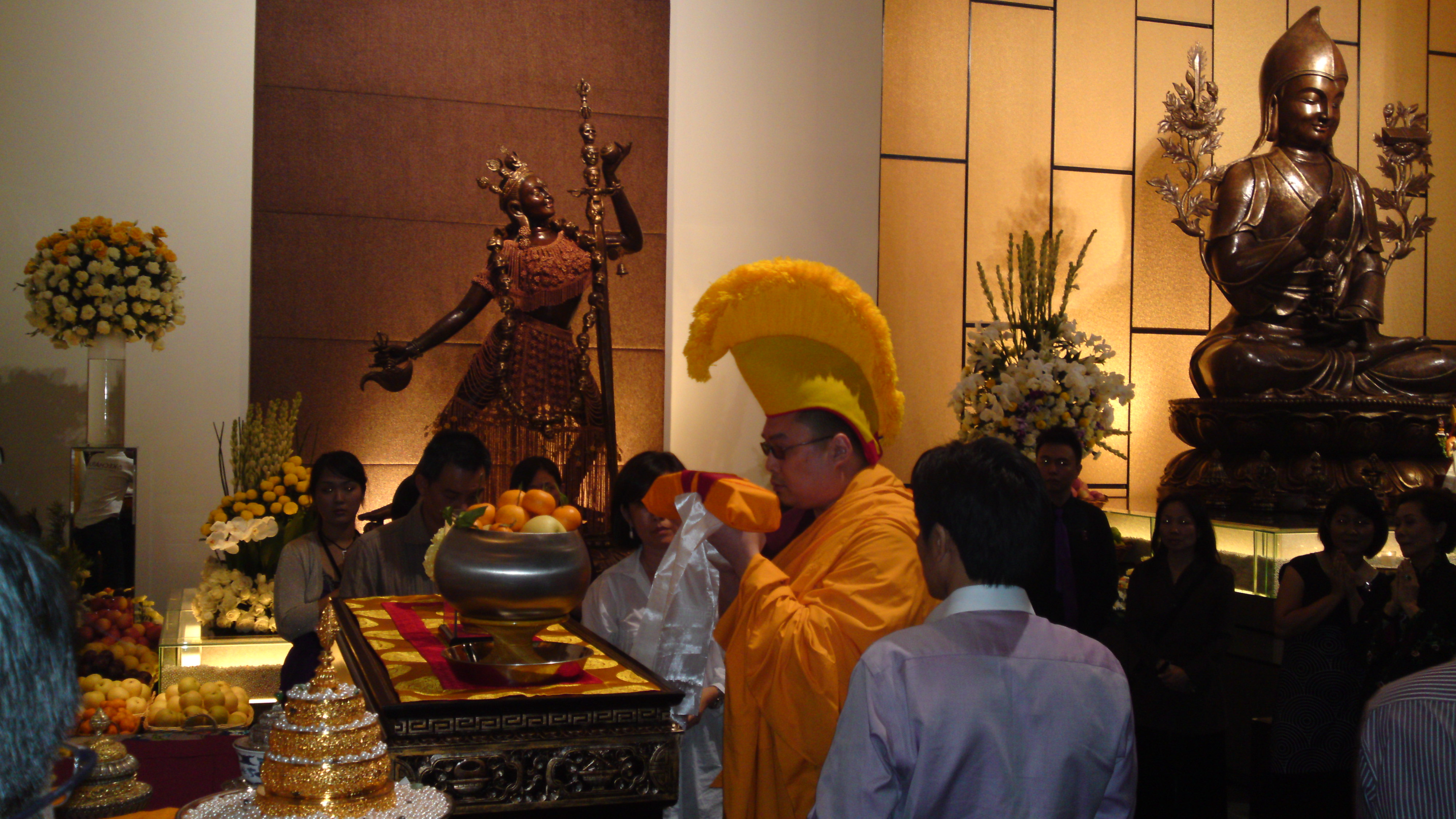 and Buddha mind to the Dalai Lama's throne which represents all of Rinpoche Gurus and lineage Gurus.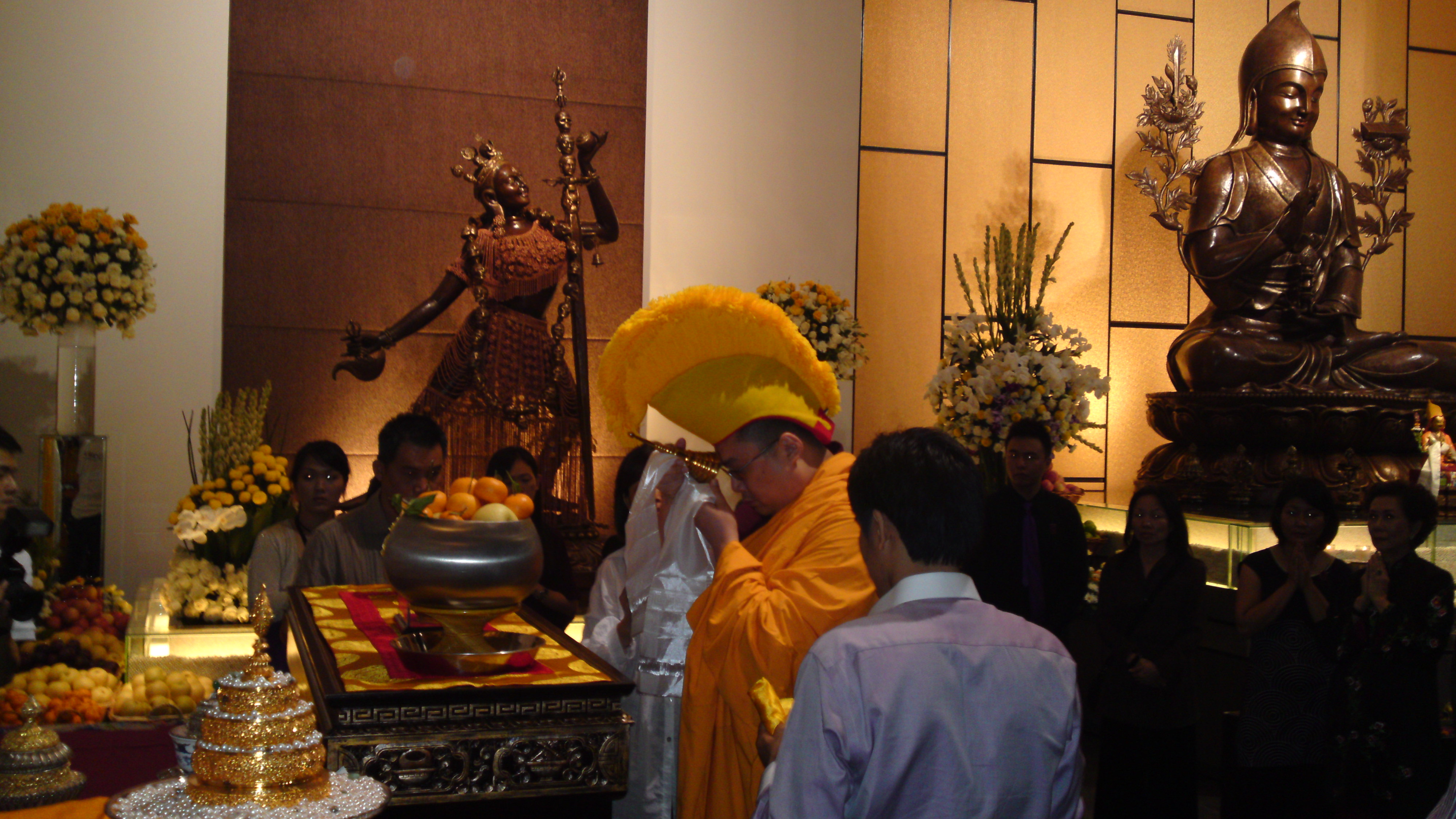 Then, Rinpoche ascends his own Dharma throne and gives us a fantastic Dharma talk. Before that, he signs a plaque to officiate Kechara House and thanks a whole list of who's who including the Liaisons and numerous guests of honour. We even have the Ambassadors of Argentina, the mentioned Reverend, Mother Mangalam (our own Malaysian Mother Teresa) and come to grace our event. Unfortunately, I didn't take any of their pictures.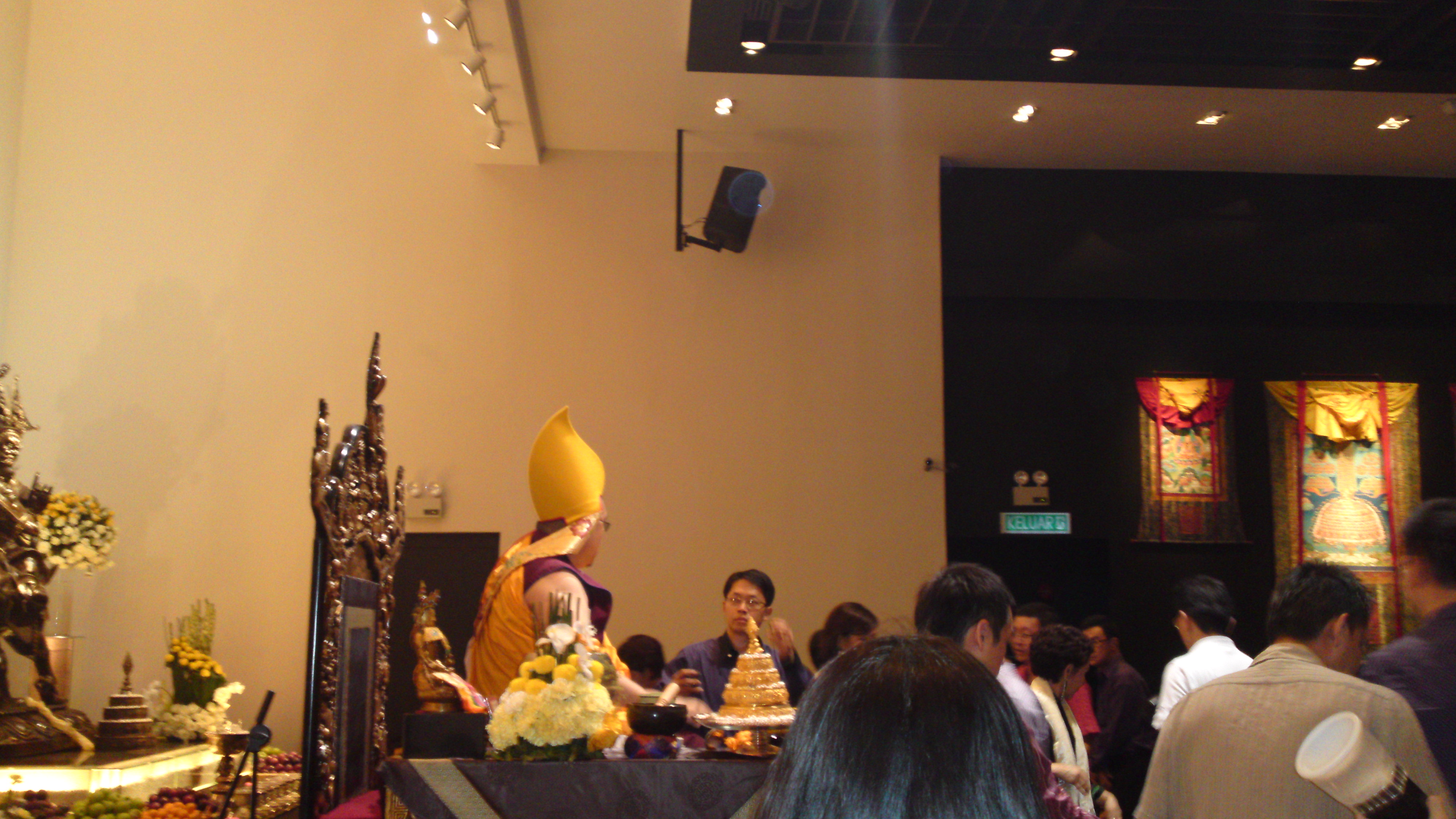 Thus the new KH Gompa is officially consecrated by a wonderful Dharma session on the universality of spirituality, the true meaning of spirituality which is finding similarities instead of differences and transformation into a kinder, more compassionate person. Rinpoche's words were of course more eloquent and meaningful than what I express here. At the end, Rinpoche spent a few minutes reciting a few sacred prayers and all of us recited Migtsema and a simple dedication. The recitations itself was simple, elegant and heartfelt. Rinpoche finally declared Kechara House New Gompa is consecrated and officially opened! 
Photo from Sharon Saw's facebook account.