16 Jun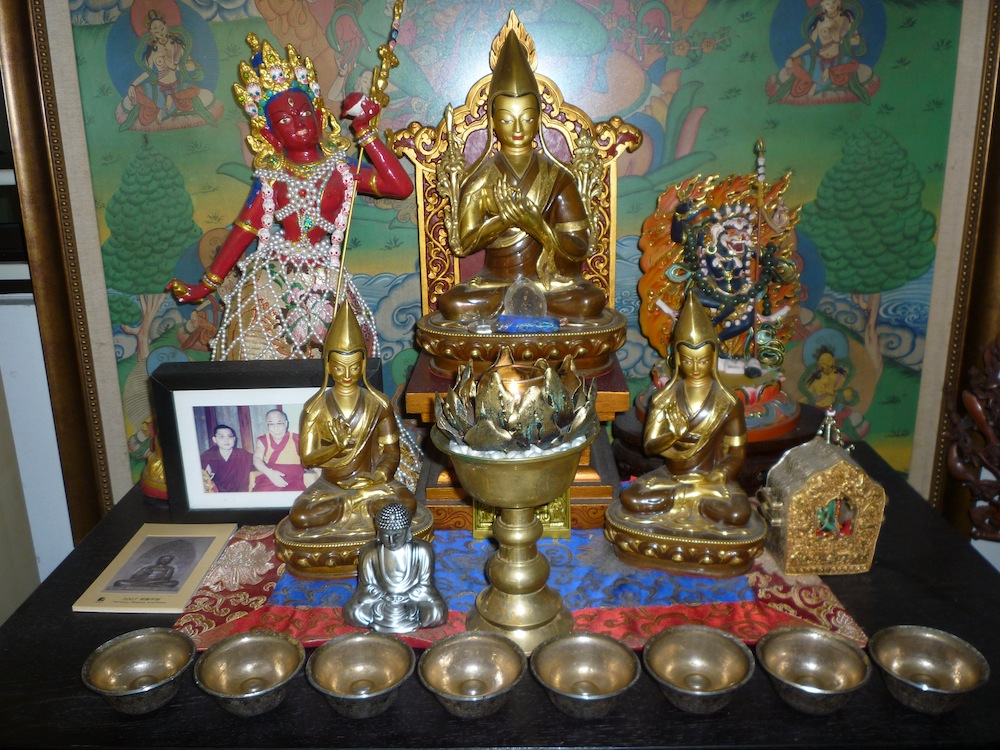 I promised a facebook friend that I will take a photo of my shrine to share with him. So I thought I share it here with anyone who would chance upon this blog. The main deity is Lama Tsongkhapa sitting on a little Dharma throne with his two foremost disciples at his feet, Gyaltsab Je and Khedrub Je.
On the left is Vajrayogini, all decked in pearls and brocade, while on the right is Singdongma, the lion-faced dakini. The photo frame on the left is of Rinpoche with the Dalai Lama and Kensur Rinpoche.  There is a Buddha Shakyamuni tsa-tsa leaning on Tsongkhapa's throne and a turquoise Vajrayogini residing in a silver and gold-plated 'Gau' box. There's a little Stupa behind Vajrayogini's Gau and a chrome-plated Kamakura Buddha. That's the Buddha that normally sits on the dashboard of my car but I have it on my altar temporarily.
I love Buddha statues and this particular Je Yab Sey Sum set – Je Tsongkhapa and two heart sons is my absolute favourite. They were apparently the handiwork of a renowned Nepalese sculptor, Siddhi Raj. It cost me a bomb to invite and it took me around 2 years to repay my credit card but it was worth it.