12 Apr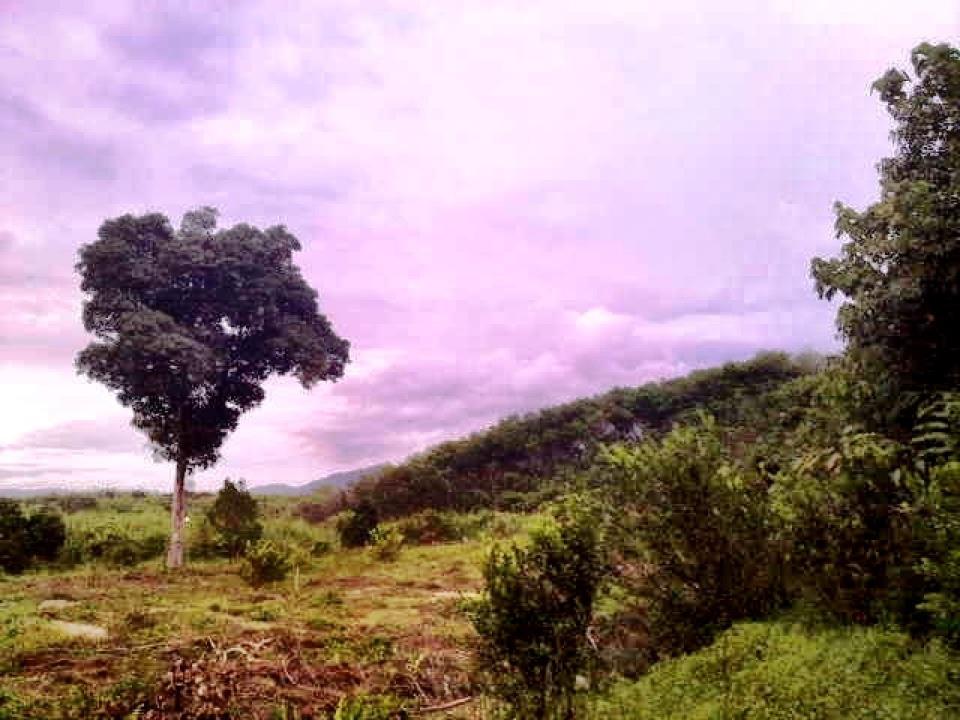 (Photo taken from Khong Jean Ai's Facebook)
Dear members and friends,
We have acquired 35 acres in Chamang in a pristine wooded area. It is an hour's drive from Kuala Lumpur and from our mother Kechara House centre in the city. I wanted a place in the woods (literally) where we can practice Dharma in nature with walks, breath meditations and fresh air. We are in the process of building some temporary shelters till a few months later when we can start building permanent structures. We will start building permanent structures as soon as the approvals come… until then we still want to enjoy the place hence the temporary shelters.
I have requested Mr. William Chua to keep us posted on this blog post with pictures of the progress. You would have to visit this post regularly to see what the latest happening is! For weeks now, there have been light activities with contractors coming in and out of the land to do some work… but today Kechara volunteers have officially started coming in to lend a helping hand! The updates will start from today, where Kecharians planted over 300 flowers, shrubs and trees!!!
We have already arranged electricity, water and even internet (soon). We will have Dharma picnics, sharing, walks, pujas and relaxation at this place. I will invite people to join me here.
The president of Kechara House Datuk May Phng is in charge of the project with her great core team of Mr. Martin Chow, Mr. Joe Ang and Mr. Jeffrey Yee. Three strong and intelligent guys will be helping our lady president Datuk May.
I love the mountains, trees, birds, fresh air and open skies. I realized I am not alone. Many of our Kecharians and friends enjoy the same. This will be the perfect place. Our very own Kechara Forest Retreat!! Do read the updates below!
Tsem Rinpoche
–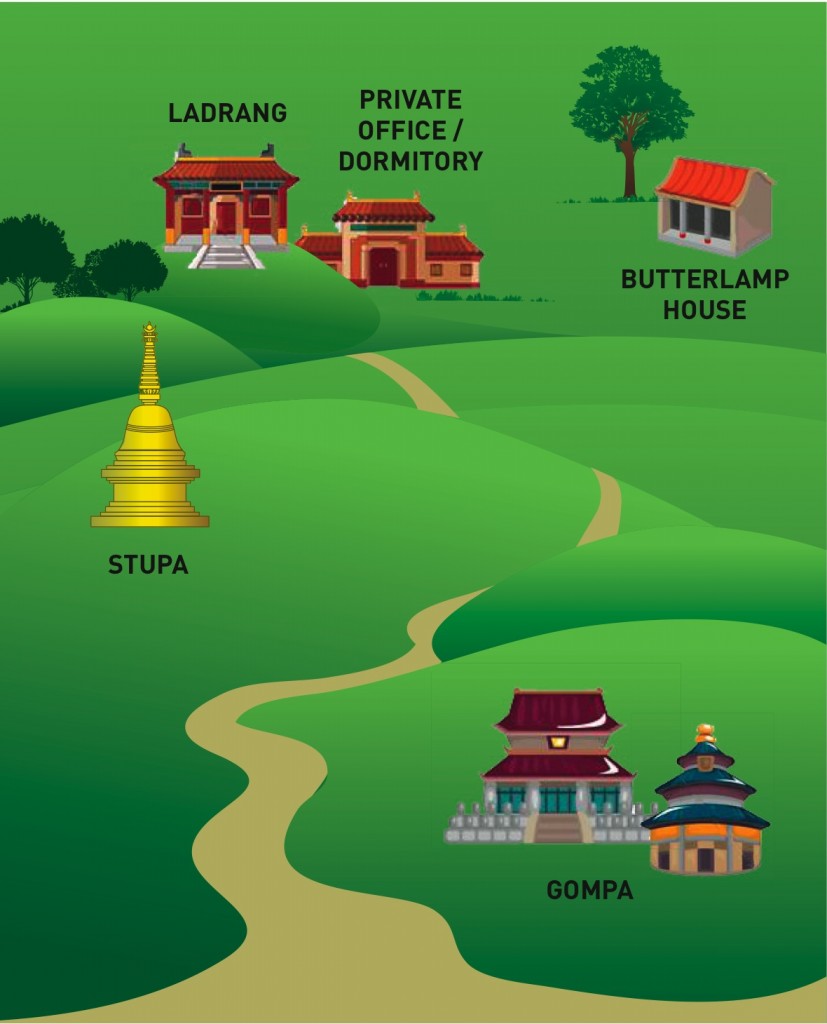 What the Kechara Forest Retreat will have:
1. A butterlamp house where the public can make light offerings to the Buddhas.
2. A Shakyamuni Chapel which can seat 700 people.
3. A Vajrayogini Stupa where practitioners can circumambulate.
4. Forest Walks where people can enjoy nature.
5. An aviary for rescued birds.
6. An organic vegetable garden where the public can learn on how to grow vegetables in their own homes.
7. A candle-making factory where we will produce our own candles for our butterlamp house and people can also learn how to make their own candles.
8. Circumambulation paths where practitioners can circumambulate and do walking meditations.
9. Walking Meditation Paths for the serious practitioners.
10. Buddha statues will be strategically placed around the land to bless the surroundings and animals.
11. A canteen to cater to the culinary needs of the public.
12. A gift shop where people can purchase souvenirs for family and friends.
13. Private quarters for Rinpoche and his assistants, otherwise known as a Ladrang.
Disclaimer: The facilities above may change as the planning is still ongoing. We may have more or new facilities while the project is in progress.
May 1, 2012 – I went early this morning to Kechara Forest Retreat in Chamang. I invited Vajra Yogini into the butterlamp house, made offerings, recited prayers and did some special wishes. Then went to my room on the land and relaxed and completed by sadhana/prayers. I wanted to stay longer but the PO's weren't with me and we had to get breakfast and some drinks. So I left midday. When I left the land around 10 mins later I came across a funeral procession. I saw a car (hearst) with flowers surrounding a picture of the deceased on the car driving by slowly and around ten cars following behind…Om Mani Peme Hung. In our tradition before you start something important or just finished something important if you come across a funeral procession accidentally, it is considered that whatever you wished for will come true. It represents 'death' of the old ineffective life and start of new life, new direction. I haven't come across a funeral procession in over three years, but I did this morning without planning. Immediately I realized the prayers I made at Kechara Forest Retreat will come true. Many people will be benefitted… I was very happy about this omen. I wanted to share here. Tsem Rinpoche
Here are some photos of Rinpoche's visit to Kechara Forest Retreat:-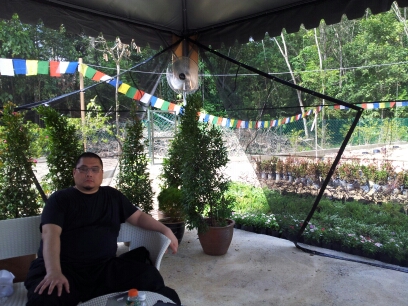 May 1, 2012. I am sitting under the wonderful veranda just outside of my room here at Kechara Forest Retreat. The veranda area has a fan too!! See the beautiful prayer flags fluttering behind me blessing the environment…Our Datuk May, Martin, Joe and Jeffrey did such a good job. Thank you team. Your work here has just started. The four of you will create something powerful and blessed here for thousands of people to come and get blessed. I am so happy for you. It will be hard work, but very fulfilling…it will bring tears to your eyes when you see how much benefit it brings when complete. Tsem Rinpoche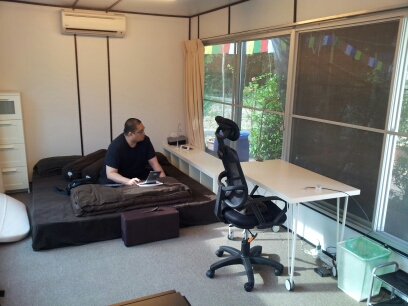 Dear all, I am in KFR today and did offerings. Here I am in inside my very cozy and comfortable room on the land..Everyone did such a good job!! Tsem Rinpoche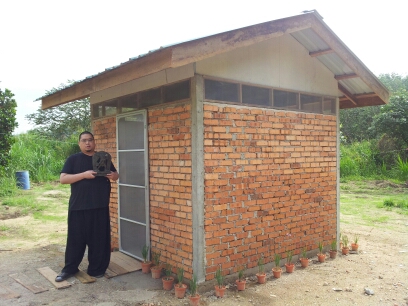 May 1, 2012. I am at Kechara Forest Retreat inviting Vajra Yogini into our temporary butterlamp house. Everyone must get the standard candles from Kechara Paradise and offer candles here now and as much as possible. Tsem Rinpoche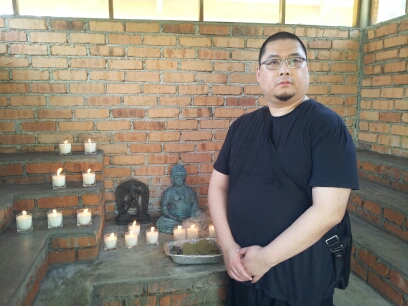 May 1, 2012. I have just finished making the first lamp offerings in our temporary Vajra Yogini Butterlamp house here at Kechara Forest Retreat. Tsem Rinpoche
Complete updates of the Kechara Forest Retreat can be accessed via Rinpoche's blog at http://blog.tsemtulku.com/tsem-tulku-rinpoche/kechara-13-depts/kechara-forest-retreat.html/12
If you are interested to contribute to this exciting forest retreat, please contact me via kmp.davidlai@gmail.com