23 Jun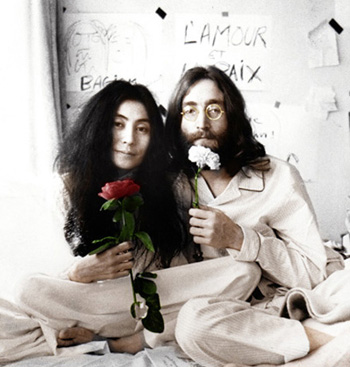 I was with Rinpoche just 2 nights ago and he was talking about a lot of things including the pressures that he was facing. He was in tears talking about it and as he talked, he turned to face his computer and played a song on YouTube. A wave of nostalgia swept through him as he reminisced about his childhood.
"Look, there's John Lennon and Yoko walking…"
He said this song inspired him to runaway from home. It was this song that infused him with new hope that things could be different. At that time, he was facing a lot of abuse at home because his mother was beating him up for the smallest reasons and there seemed to be no end to the terror.  She was Schizophrenic but they didn't know about such things back then. On the other hand, his father was cold, distant and was only concerned with 'enjoyments' outside that led to his mother's psychological breakdown. His days were filled with tears, beatings and a lot of pain.
While he was struggling with depression, John Lennon had just passed away. His songs were being played everywhere – on the radio and on TV. It didn't really matter to him but his songs were everywhere and so he listened. And he liked it. He hitched-hiked to the nearest mall to purchase the album with the little money he saved. That was it. He played this song over and over again.  It was this song that inspired a fresh new dream and a journey out of pain…
原动力 (译文)
仅两晚前我和仁波切在一起的时候,仁波切谈论了很多事情,包括仁波切正面临着的压力。在谈论中, 仁波切掉下了眼泪,转过身来面对电脑,并从Youtube播放一首歌。怀旧的浪潮席卷了仁波切,让仁波切回忆起他的童年。
"你看,*约翰•列侬 (John Lennon) 和小野洋子(Yoko Ono) 正走着……"
仁波切说,这首歌是他从家里离家出走的灵感。就是这首歌给他注入了新的希望,认为境况可能会有所不同。当时,仁波切在家承受无数的虐待,因为他的母亲会因 小小的原因而殴打他, 而且这恐怖的局势似乎是没有尽头的。仁波切的母亲患精神分裂症,但那时候的他们并不懂这些事情。另一方面,他的父亲非常冷淡,遥不可及,只关心自己在外面 的'享受',这也导致仁波切的母亲心理崩溃。仁波切的日子充满了泪水,殴打和很多的痛苦。
当仁波切正在抑郁症中挣扎时,约翰•列侬刚刚去世。他的歌曲无处不在 – 在电台和电视上被播着。仁波切并不管这一些,但因为列侬的歌曲到处都是,所以仁波切就听着。而仁波切也很喜欢它。仁波切搭便车到最近的商场,用他仅有的丁 点储蓄购买了专辑。就是这样。仁波切把这首歌曲播了一遍又一遍。就是这首*灵感歌曲启发了全新的梦想,还有那走出痛苦的旅程...
注:
1. *英国著名摇滚乐队"披头士"成员,摇滚史上最伟大的音乐家之一 ,诗人,社会活动家,反战者。披头士乐队是20世纪最成功也是最具影响力的创作组合之一。
2. 这首歌是"Imagine".