19 Aug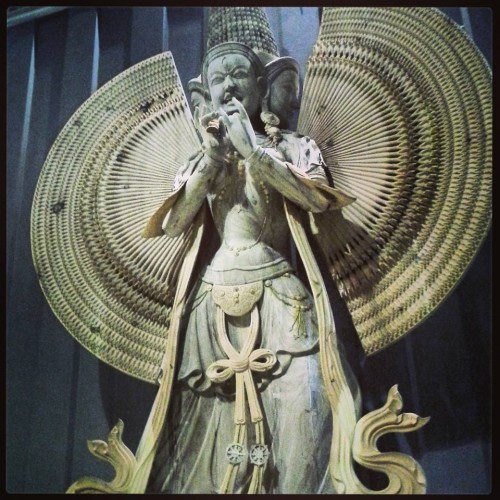 This is the Sitatapatra statue that just arrived in Kechara Forest Retreat. Photo courtesy of Martin Chow.
This magnificent 8-feet wood-carved statue of White Umbrella or Dukkar has recently just arrived at Kechara Forest Retreat. She is placed at the Dukkar apartments (aptly named Dukkar after this grand deity) within KFR where volunteers and those working in KFR reside. She provides powerful protection against negative entities and interferences and that's why I recite her powerful mantra daily. Her image would gather her sacred energy to provide power protection for those living in the apartment and beyond. I found a writeup that I wrote a while ago on her and I would like to share it here in celebration of her arrival at KFR…
Sitatapatra (Sanskrit) or Dukkar (Tibetan) is regarded as the female counterpart of Avalokitesvara, the Bodhisattva of Great Compassion. Just like him, Sitatapatra appears in many forms but her more common emanations are the one with two arms and the one with thousand arms.
Her name translates to 'White Victory Parasol', which is a reflection of the powerful protection that she offers to practitioners. According to the Sitatapatra Sutra, she emerged from the sacred crown protrusion of Buddha Shakyamuni's head while he was at Trayastrimsa heaven. The Buddha pronounced her role to "completely cut asunder all malignant demons and all spells of others and to turn aside all enemies, dangers and hatred." Her benign and beautiful form belies her ferocious protective nature, as she is a "fierce, terrifying goddess, garlanded by flames, a pulverizer of enemies and demons." She emanated from the Buddha's crown protrusion called the Ushnisha, which is a direct manifestation of his Enlightenment.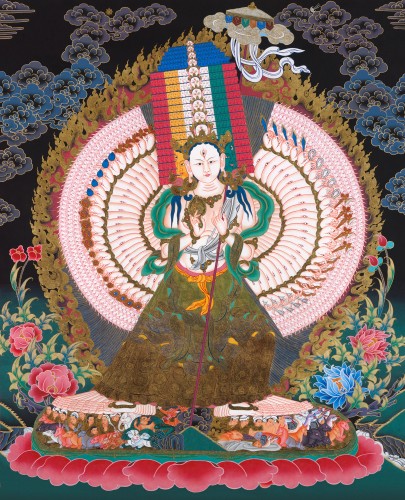 Sitatapatra's more elaborate form with a thousand faces, hands and legs.
Her elaborate form with a thousand arms, has skin that is white in colour like the moon. This form does not have just a thousand arms but a thousand faces and legs too. On each palm and sole of each foot, Sitatapatra has eyes that watches and protects all sentient beings. She holds onto an assortment of implements like Dharma wheels, vajras, jewels, lotuses, double vajras, bows, swords, lassos and vajra hooks. But her principle implement is a white parasol that symbolizes victory over death, demons and negativities. Her thousand feet trample upon gods, demigods, ghosts, demons, humans, animals and all manner of obstructive beings.
Sitatapatra's simplified form with only two arms. 
Sitatapatra's simplified form is white in colour and is depicted with two arms. Her left hand holds a white parasol to her heart while her right hand extends downwards, holding a Dharma wheel. Like many other Buddhist deities, she is crowned and decked with the six ornaments of a Bodhisattva.
Dukkar's special protection is the pacification of black spells. Her practice brings great blessings and protection. It cures illnesses and pacifies harmful spirits and black magic. It stops all evil forces, and is very effective for purifying the karma of being wrongly accused such as in arguments or legal cases. All these threats are eliminated by her power, which is like a sharp diamond sword. Dukkar protects practitioners and helps them avoid obstacles.
Her short sacred mantra is OM SITA TAPA TREY HUM PHET.